Uh-Oh: Reports Of 'Project X' Inspired Parties Multiply; One Person Killed In Houston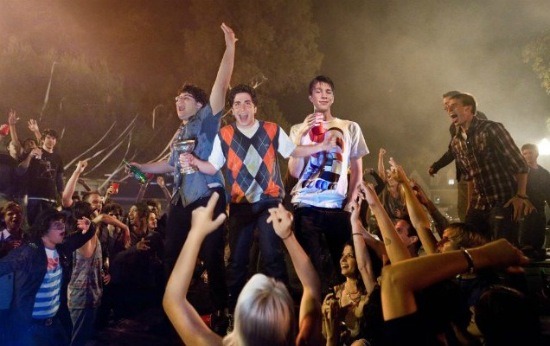 The recent release of Project X, the film in which a few kids throw a house party that goes wildly out of control, earned a good many dismissive reviews, and a few instances of disappointed clucking from those who saw the film as an encouragement for all the sort of things parents absolutely don't want their kids doing. The chances of the film actually instigating any real-world behavior didn't seem outsized, given that there is no pretense towards reality in the movie, and kids (to generalize broadly) mastered the art of throwing parties a long time ago.
But a group of kids recently broke into two newly built, vacant homes in Houston, doing damage to both, and reportedly citing Project X as inspiration when they were confronted and arrested. I had started a piece on those arrests and was researching the facts beyond the tabloid reports from outlets like The Daily Mail when I found a new item from last night that is more disturbing: during a Houston party last night that attracted hundreds of people, guns were fired and one reveler was shot and killed.
An ABC news report says that a "spring break rave" in a vacant Houston home, promoted on Facebook and Twitter, attracted a reported three to six hundred people. (Actual attendance numbers are not likely to ever be verifiable.) Police responded to calls from neighbors and shut the party down. After the shutdown, people were trying to leave the crowded area and at least one person — reportedly multiple people — started firing a weapon into the crowd. One man suffered multiple gunshot wounds and died at Ben Taub General Hospital.
Here's the thing: the gunman in this case was in all likelihood not inspired by the movie Project X. He almost certainly shot because of factors that have nothing to do with the movie.
In fact, the party isn't verified as being inspired by the film. One attendee, cited by the ABC report linked above, says that Project X was part of his reason for attending. But another local report suggests that this isn't the first party of this size and style that was thrown in the area. Connection to the film might be tenuous at best. The real inspiration might be the availability of large, vacant homes that do not have very immediate neighbors, as was the case with the party at which this shooting took place.
But there are other reports linked more directly to Project X.
An 18-year old in Miramar, FL allegedly caused $19,000 of damage to a foreclosed home that he was prepping for a party. In a video he shot to promote the event, he demonstrated how he spraypainted 'Project X' on the walls and encouraged destruction of the house. News reports say nearly 2000 people turned up for the party after it was promoted on Twitter, Facebook and Craigslist; all were turned away by authorities who had already arrested the teen.
And Houston also just saw the arrests of thirteen kids who broke into and vandalized two vacant homes. They were caught when a private investigator who works for the home builder suspected after the first break-in that they might try again. They did, and were arrested. The investigator says that multiple members of that group cited Project X.
Again, the common factor in all these parties is that they're taking place in vacant new or foreclosed homes. There have been other thwarted copycat party efforts, too, in Michigan, Calgary and other cities. Some seem like smaller gatherings promoted with names that play on the movie title, which helps create social media traction.