TV Bits: Frank Darabont's 'L.A. Noir' Gets Guest Star Simon Pegg, Plus: 'The Killing', 'Mad Men', 'Community', 'Doctor Who', 'Game Of Thrones', And More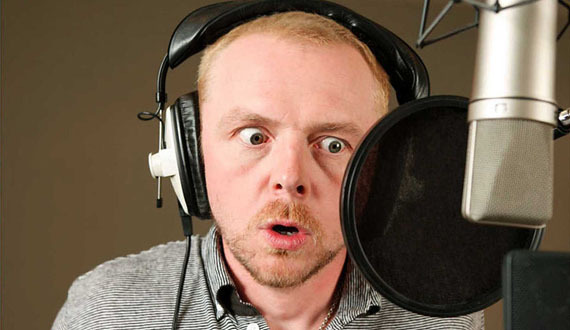 We've got a ton of small screen-centric odds and ends today, and there's good news for just about everyone. Unless, that is, you're Mike Tyson, Spike Lee, John Boyega, or Lord Eddard Stark. After the jump:
Simon Pegg enters talks for Frank Darabont's L.A. Noir
The Killing Season 2 drops a new promo
Mad Men unveils Season 5 photos and two new promos
Showtime announces return dates for Weeds and Episodes
HBO passes on Mike Tyson and Spike Lee's Da Brick
Comedy Central picks up Community reruns
The Internet speculates about the Doctor's next companion
Robert Rodriguez talks about his new cable network
Game of Thrones gets a gruesome new poster, offers first look at Jaquen H'ghar
It seems like just yesterday that (seemingly) the entire Internet was getting all up in arms about the first season finale of AMC's The Killing, but here we are, about to head into Season 2. A new promo rehashes some of last season's events while dropping a few small hints to set up the upcoming episodes. Check it out below:
So... Have you forgiven The Killing yet or do the reminders of last season just make you feel bitter all over again? In any case, the show returns Sunday, April 1. [TVOvermind]
I'm betting TV watchers are feeling much less conflicted about the return of a different AMC show, Mad Men. The network has dropped some slick new promo images (one of which contains that mysterious Rita Moreno Life cover we discussed earlier this week), as well as a couple more teasers. No, these new videos and pictures don't reveal any more of Season 5 than the earlier ones did. Sorry.
Well, at least the tunes are fun and the photos are pretty. Mad Men premieres Sunday, March 25. [Coming Soon, Cinema Blend]
In still more returning-series news, Showtime has announced that Weeds' thirteen-episode eighth season will debut Sunday, July 1 at 10:00 PM. Following at 10:30 PM on the same night will be the premiere of Episodes' second season, which will have nine episodes. So now you have something to do with your Showtime subscription until Dexter and Homeland return September 30. [Deadline]
I had high hopes for Attack the Block star John Boyega when he landed the lead in the Mike Tyson-produced HBO drama Da Brick, but alas, it seems that role is not to be. HBO has officially passed on the project, which boasted a pilot directed by Spike Lee, written by John Ridley (Three Kings), and executive produced by Doug Ellin (Entourage).
Inspired by Tyson's early career, the series would've centered around a troubled young Newark man (Boyega) and explored "what it means to be a young, black man in supposedly post-racial America." Da Brick is the second of Ellin's projects to get turned down by HBO in recent days; earlier this month, the network also decided against his middle-aged comedy pilot 40. [Deadline]
It's unfortunate that this next bit of news comes a bit too late to comfort Community fans who were distraught by the NBC comedy's hiatus. On the plus side, if it happens again next year, you'll have somewhere else to turn. Comedy Central has just acquired the syndication rights to the first three seasons of Community, and will begin airing reruns in fall 2013. [Variety]
With Karen Gillan and Arthur Darvill set to exit Doctor Who sometime in the near future, speculation has heated up about whom the Doctor might be taking along on his travels next. Bleeding Cool's detective work suggests that Sophia Myles will be returning to the series at some point, perhaps as a replacement for Amy and Rory, though they believe Miranda Hart is a strong contender as well. Hmm. Leave your own guesses in the comments. [via AICN]
A few weeks back, Robert Rodriguez announced that he would be launching his own TV network El Rey, "designed to be an action-packed, general entertainment network in English for Latino and general audiences that includes a mix of reality, scripted and animated series, movies, documentaries, news, music, comedy, and sports programming." Now Rodriguez has offered a bit more about why he's launching his network, what kind of material he's looking for, and who might want to tune in. Oh, and if you're still wondering why it's called El Rey, the network is named after a song by Vicente Fernandez. Watch the video below:
[via HuffPo Entertainment]
Finally, I've saved these Game of Thrones bits for last because the second one is rather spoiler-y. Access Hollywood has posted the first look at Tom Wlaschiha as convicted criminal Jaqen H'ghar, who crosses paths with Arya (Maisie Williams) in the upcoming season.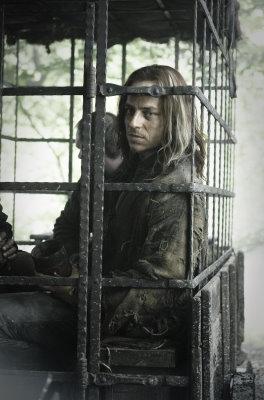 Did he look just as you'd imagined? Not that it matters, anyway, considering his special talents.
HBO has also put out a gory new poster for Season 2, which I should warn you includes a MAJOR SPOILER for Season 1. Venture past this warning at your own risk.
Okay, ready?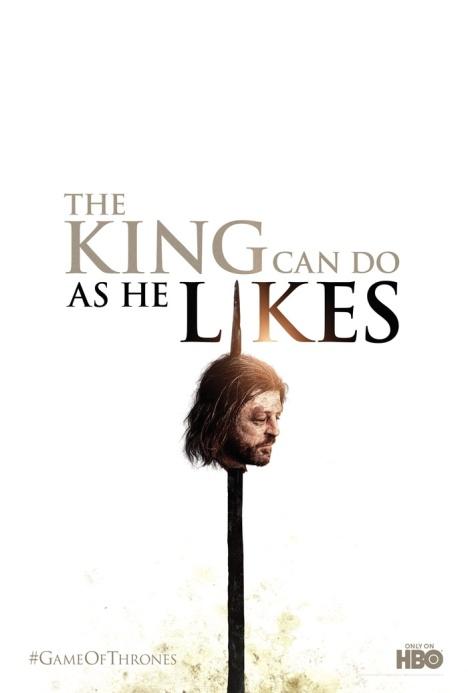 Damn you, Joffrey. Hasn't Sean Bean died enough already? Game of Thrones returns Sunday, April 1. [Comic Book Movie]