Sequel Bits: 'Skyfall' Set Photo Shows James Bond's Beloved Aston Martin, Plus: 'Human Centipede 3', '300 2', 'Avengers 2', 'Green Hornet 2' (Or Not)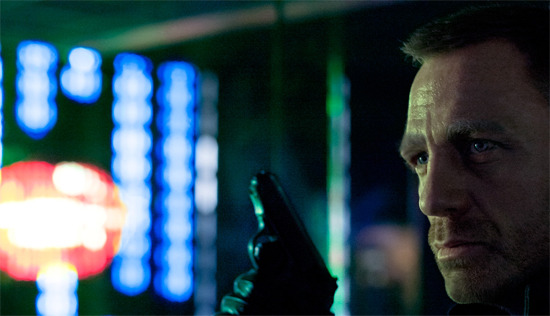 Disgusting as the Human Centipede franchise is, I've gotta hand it to director Tom Six. Most sequels try to go bigger and better, but few try to go 50 times bigger. After the jump:
Tom Six says Human Centipede 3 (Final Sequence) will feature a 500-person chain
Rodrigo Santoro talks 300 2, or whatever they end up calling it
Joss Whedon continues to spill his thoughts on a potential Avengers 2
In case you were still wondering, no, there are no plans for a Green Hornet 2
Skyfall set pics reveal a familiar-looking car and a handsome-looking Bond
Six has previously said that — in the same way that, according to him, Human Centipede 2 made Human Centipede look like My Little Pony — Human Centipede 3 would make Human Centipede 2 look like a Disney film. While I sincerely doubt that anything could really make Human Centipede 2 look like a Mouse House production, a 500-person mouth-to-anus chain seems like as good an effort as any. [The Playlist]
Now that we've got the ickiest news of the day out of the way, let's move on to less stomach-turning territory. 300 star Rodrigo Santoro has confirmed to Brazilian site UOL that he is in talks to reprise the role of Persian king Xerxes for the sequel, which was most recently going by the name 300: The Battle of Artemisia but remains officially untitled at this moment. The actor also clarified that the film was neither a prequel nor a sequel, technically speaking, but rather a parallel tale set in the same universe. "It's not a sequel, but does not come before," Santoro explained. "It's a film that takes place at about the same time of the battle that goes on in the first film."
Noam Murro is directing the Frank Miller-based epic, which also stars Eva Green, Sullivan Stapleton, and Jamie Blackley. 300 2 (or whatever they end up calling it) is expected to hit theaters sometime next year. [Comic Book Movie]
In other comic book news, Joss Whedon's still talking about a potential follow-up to The Avengers even though the first film won't actually hit theaters for another several weeks. Not that I'm complaining, though, because Whedon definitely sounds like he's on the right track. Last week, the filmmaker expressed his desire to go smaller in the sequel, and he's now told Total Film that he wants to ensure that The Avengers 2 works as a standalone film, rather than as just another installment in a large franchise.
"I'm a great believer in the idea that if you make the first one to be a 'first one,' then you have already failed," said Whedon. "As much as we want to service the idea of a film in a franchise, I want this to be a satisfying film experience. I don't want people to go out saying, 'When's the next part?' I want people to say, 'Oh, I want to see that again!'" Not that Avengers 2 won't tie in with Avengers 1 at all, of course. "We do give a nod to a greater problem than the one solved in this film," he noted.
In the interview, Whedon also discussed the first Avengers, talking up the "quite large" scale of the climax and explaining a discarded idea to frame the plot from Captain America's point of view. Read more of his quotes at Comic Book Movie.
I doubt anyone's still expecting a sequel to The Green Hornet at this point, but if you were, you should probably stop holding your breath. Asked about a potential follow-up, producer Neal H. Moritz gave a blunt response: "We're not making a sequel right now." According to Moritz, the main issue was the first film's extravagant budget.
The movie did almost $250 million and was actually very well liked, but we made the movie for too much money. One, we made it in L.A. for certain reasons, and two, we decided to go to 3D — that added another $10 million. If I had done it in a tax-rebate state and not done 3D, it would have been considered a huge financial success for the studio.
For reference, Box Office Mojo lists The Green Hornet's production budget at $120 million.
Moritz was more optimistic about the prospects for another of his ongoing action projects, the Fast and the Furious franchise. "We're working hard on the next two, and I think the sky's the limit," he said. "I'd love to make them forever." [THR]
And speaking of cars: Earlier this week, we got a first glimpse at one of the 007 series' newest faces, that of Javier Bardem's villainous Silva. Today, we've got set pics that show one of the franchise's longtime staples. Coming Soon has posted photos from the English set, showing a dapper, clean-shaven Daniel Craig as James Bond, with his beloved Aston Martin behind him. Head to Comic Soon for more images. The Sam Mendes-directed Skyfall also stars Judi Dench, Naomie Harris, Berenice Marlohe, Ralph Fiennes, Albert Finney and Ben Whishaw, and is scheduled to open November 9 in the U.S.