The Feature Film Version Of '24' Might Not Happen This Year After All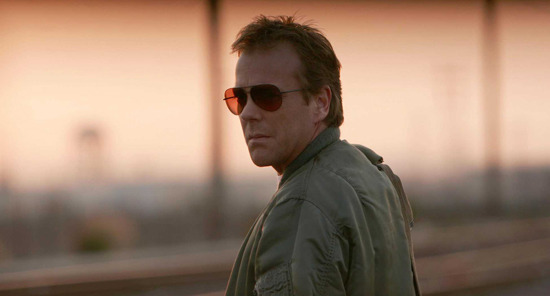 The final episode of 24 was broadcast in May 2010, and not long after we started to hear serious talk about a feature film continuation of the series anchored by Kiefer Sutherland's character Jack Bauer. Fox spent a lot of time choosing a screenwriter (Billy Ray eventually scripted, with Mark Bomback polishing) and starting the process of finding a director. A tentative start date was scheduled for the end of this month, timed to coincide with Sutherland's hiatus from his new series Touch.
But there still is no director — Antoine Fuqua was a recent possible hire — and it now looks like Fox isn't going to pursue the film until 2013 at least.
Deadline says there are a few issues, with rumors of budget problems and scheduling constraints. The biggest problem could be that Fox doesn't think Sutherland's TV hiatus will allow enough time to properly shoot the film. Fox doesn't want to rush it, and Sutherland doesn't want to rush it, and so the film is off the schedule for now.
Will the movie ever happen? Deadline notes that the key ingredients are ready: the script is there, Sutherland is there, and Imagine Entertainment is ready to run with it. There was even groundwork laid for a three-film arc, established by the script for this first movie.
But with every step taken away from the planned 2012 start, 24 could seem less insistent. What might get the film made, however, is Imagine Entertainment producer Brian Grazer, who has a reputation for tenaciously sticking with projects until they go forward, even if delays get in the way. But even if Grazer keeps 24 pulled together for an eventual shoot, it seems like that might not be until Spring 2013 at the earliest.
In a press conference seen on the Russian edition of THR, Sutherland recently said that he is "cautiously optimistic" about getting the film made, while citing the same narrow scheduling window that Deadline pegs as the reason Fox won't go forward with it this year.
As a tease for what is to come, Sutherland described the plot of the movie script in general terms, saying that Bauer is hiding in Eastern Europe, his cover is blown, and various groups all want to kill him. He has to survive that assault, and rather than saving the US once again, he has to save himself.