Robert Rodriguez Offers 'Machete Kills,' 'Sin City 2' & 'Heavy Metal' Updates; 'From Dusk Till Dawn' Getting 3D Re-Release?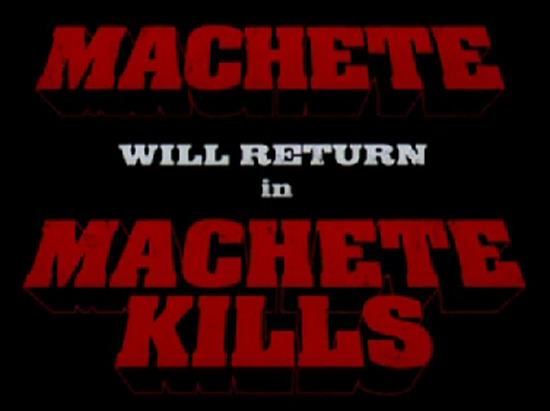 Robert Rodriguez may originally be from San Antonio, but Austin, TX has been his private and professional home for many years. So an appearance at the SXSW festival is to be expected, and Rodriguez did indeed show up at the film and interactive portion of the fest to talk about his upcoming projects.
Some of the filmmaker's talk, in an extended interview, turned to his plans for the upcoming El Rey network, of which we told you not long ago. But he also dished out some plot details on Machete Kills, and said that Sin City 2 will likely shoot right on the heels of his Machete sequel. Finally, there is news that a 3D re-release of From Dusk Till Dawn is headed our way.
First up, let's hit Machete Kills. In the interview embedded below, the director described the plot:
Machete Kills is just really good... it turns very James Bond, Mission: Impossible. He works for the government, the president gives him a job. He gets citizenship, and they say "for your new country, you have to do this."
Add that to the earlier plot recap, and you start to get a good idea of the film:
The new film finds Machete recruited by the U.S. Government for a mission which would be impossible for any mortal man. Machete must battle his way through Mexico to take down a madman cartel leader and an eccentric billionaire arms dealer who has hatched a plan to spread war across the planet with a weapon in space. Machete takes on an army in an effort to dismantle a plan for global anarchy.
The follow-up to that will be the long-discussed Sin City sequel, which will be shot using the same extensive green screen work as the first film. As we've reported before, this sequel will adapt the graphic novel A Dame to Kill For, but will also feature two new stories written for the film by Sin City creator Frank Miller.
And then we're doing Sin City 2 — it might overlap that. It's going to be right at the end of that, so we'll probably be editing Machete while we shoot Sin City. It'll be summer, it'll be hot, and it'll be nice and cool inside on the green screen.
He also reiterated what was said at Comic Con, that the third Machete film isn't just Machete Kills Again — it will be Machete Kills Again... In Space! Not too difficult to see how that'll happen, given the plot of Machete Kills. But don't expect Rodriguez to do another Predator movie, as he says he would rather focus on projects that he controls or owns.
THR, meanwhile, reports that the animated Heavy Metal film announced at Comic Con last year is scripted and moving into storyboarding and pre-production. No word on what creators are involved, however.
And then there is From Dusk Till Dawn. I haven't been able to fully confirm this, but a few people are talking, mostly via Twitter, about Rodriguez having announced a 3D version of the 'criminals versus vampires' movie that he concocted with Quentin Tarantino back in 1996. Post-conversion being what it is, such a re-release would probably be exciting primarily to a hardcore group of fans. But if you've always wanted just a bit more out of the film's famous snake dance scene, this could be just the thing.