Paramount Gives 'One Shot' And 'TMNT' Prime December Release Dates In 2012 And 2013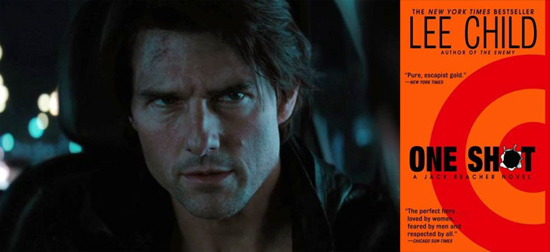 How much confidence does Paramount have in One Shot, directed by Christopher McQuarrie and starring Tom Cruise, and the new Teenage Mutant Ninja Turtles, about which we still know next to nothing? Both films have been given high-profile December release dates, with One Shot now set to open on December 21, 2012, and Teenage Mutant Ninja Turtles set for Christmas Day 2013.
One Shot was previously set to open in February 2013, and this move is pretty clear: Paramount almost certainly hopes to replicate the 2011 holiday success of Cruise's Mission: Impossible – Ghost Protocol. Whether that is really possible is unknown, especially given the film's new competition: Hunter Killer, Life of Pi, and the new films from Judd Apatow and Kathryn Bigelow.
One Shot is a movie I'm interested enough in seeing that I almost put it on my 'most anticipated' list for this year, before realizing that it was then set for 2013. Why the anticipation? The film adapts one of Lee Child's tremendously entertaining Jack Reacher novels, and despite fan grumbling about casting Cruise, in which I took part, we've got other appealing factors: a script and direction by Christopher McQuarrie, Werner Herzog playing the Big Bad, and a supporting cast that includes Rosamund Pike, Robert Duvall, Richard Jenkins and Michael Raymond-James. That's enough for me.
Here's the plot:
A city is thrown into chaos following a sniper shooting that leaves five dead. What at first seems like a simple case to solve becomes complicated when the accused requests that Jack Reacher be put on the case.
Meanwhile, the new Teenage Mutant Ninja Turtles film that is being backed by Platinum Dunes and directed by Jonathan Liebesman (Battle: Los Angeles, Wrath of the Titans) has been given a Christmas Day spot in 2013. We don't know any real story details there, and casting hasn't begun.
To make some of these moves possible, Paramount moved World War Z, based on the Max Brooks novel and starring Brad Pitt with direction by Marc Forster, out of the date now held by One Shot and down to June 21, 2013. That's hardly a move to grumble about, but there will be some big competition as Man of Steel opens a week earlier and Pixar's Monsters University hits on the same day.[Variety]