Watch 'Modern Football,' A Lost Robert Altman Movie Recently Found At Flea Market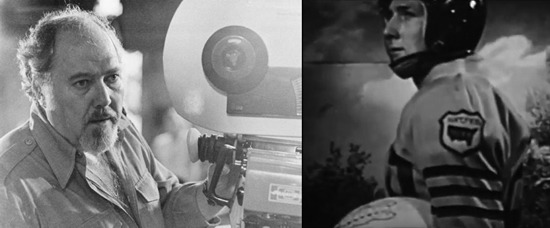 The internet can be a miracle. Years ago, we might have read about the very early work of certain filmmakers — commercials, short films, and so-called 'industrials,' aka informative films made for companies or schools — but they were often very difficult to find. We knew about these journeyman periods from various directors, but couldn't easily view them. Now, when someone finds a rare copy of a famous filmmaker's early work, it takes only minutes to digitize and upload to YouTube, where it becomes part of public record once more.
Case in point: Modern Football, one of the earliest films made by the late Robert Altman (M.A.S.H., Nashville, Gosford Park).
Altman's early film work began in the late '40s, and until the mid-'50s he made dozens of industrials. Modern Football, made in 1951, is reportedly Altman's second film ever. (Some peg it as his first, but I've seen references to another industrial from '49.)
Few have seen this half-hour movie in the last few decades, but another filmmaker recently found a 16mm among a collection of industrials at a flea market in Kansas City. The film has been uploaded to YouTube, and you can have a look below to get a taste of Altman's very early work.
The SFWeekly reports that Gary Huggins (who is in the midst of a Kickstarter project to fund his own feature) found the copy of Modern Football and uploaded it for our edification.
There is some hilariously dated stuff in this movie, specifically when it takes a moment to plug Wheaties, one of the film's sponsors.
But there is also some good naturalistic filmmaking here, with Altman capturing a better look at football than we'd typically expect to see in an industrial. (The format isn't really known for displays of virtuosity.) Would someone seeing this peg it as Altman's work without knowing beforehand that he was involved? Probably not. But those who are very familiar with his work might see the roots of his style starting to grow in this early effort.