Exclusive: Character Posters For 'The FP'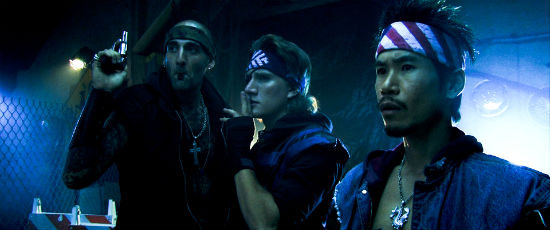 This is the point where I admit that I really don't 'get' The FP. The film from the Trost Bros appears to be some sort of view into a world where The Warriors and Rocky were funneled through a Dance Dance Revolution machine. Somehow, what emerged is a story of "the deadly arena of competitive dance-fighting." It's a comedy, but one where everyone involved seems to be really, really determined to play for a strange, hardcore set of laughs.
All of that means that the Drafthouse Films release might not be for everyone, but the people who do like it are probably going to like it a hell of a lot. I'm very interested to see if the full film follows through on the very odd premise.
We've shown you the film's trailer and even the first ten minutes. Now we've got three exclusive character posters showing a trio of the film's most important combatants. And, should The FP look like a movie that is right up your alley, you can now start to use the Tugg movie booking service that we recently highlighted to set up a local screening.
Here are the character posters, first off:
And then, to book the film, you can check in with Tugg if the film isn't already set to play in a theater near you when it opens on March 16. Here's the info from the press release:
Drafthouse Films announced THE FP is available to screen in cities nationwide through Tugg, Inc. ("Tugg"), a collective action web platform that enables moviegoers to choose the films that play in their local theaters.  Starting today, fans can sign up to bring THE FP (http://tugg.com/thefp) to their theater to share this manic, warped, ambitious, hilarious and utterly original vision of a dystopian world where turf battles are settled by the competitive dance video game "Beat Beat Revelation."  THE FP will be available through Tugg in conjunction with its theatrical release in select cities Friday, March 16.
Here's the official plot description:
In a dystopian future, arelentless turf war rages. Two rival gangs feud for control of rural wasteland Frazier Park ('The FP') in the deadly arena of competitive dance-fight video  game "Beat-Beat Revelation." After hometown hero BTRO is slain on the dance platform by thug leader L Dubba E, his protégé younger brother JTRO (Jason Trost) goes into isolation, vowing never to duel again. One year later, The FP is in ruins, and JTRO must find the courage to return and restore order in a ruthless battle for revenge that can only leave one man dancing. From the producers of PARANORMAL ACTIVITY and featuring narration by James Remar (THE WARRIORS), THE FP is a fury of fierce footwork, triumphant montages and neon street wear that Moviefone calls "a rare ready-made cult hit."