'The Hunger Games' Clip - Peeta Makes His Move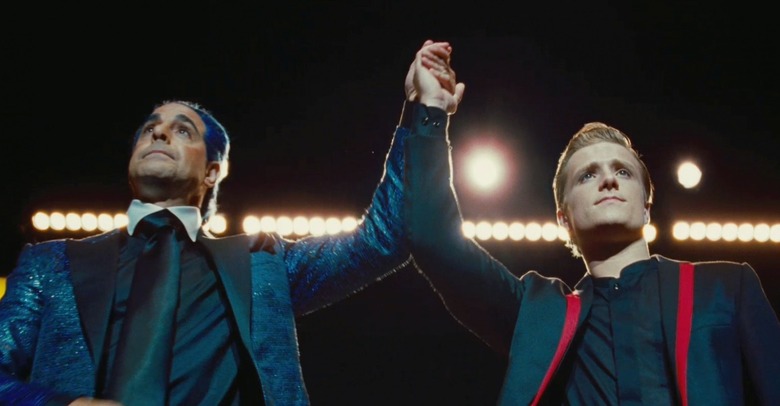 Another day, another The Hunger Games clip. Where most of the previous ones have focused on Katniss (Jennifer Lawrence) — she is the protagonist, after all — this one puts the spotlight on her fellow competitor Peeta (Josh Hutcherson). In it, he sits down for his public interview with Caesar (Stanley Tucci) and makes a declaration that, true or not, is sure to pique the interest of viewers and potential sponsors. Watch it after the jump.
[via Cinema Blend]
Though the more recent marketing has been a bit more subdued, if you've been following our Hunger Games news you'll recall that much of the earlier trailers, photoshoots, etc. played up the love triangle aspect of the story. This clip goes back to that subplot, though thankfully not in a terribly sappy way. I'll be interested to see how Gary Ross' cinematic adaptation tackles that storyline, especially given that Hunger Games is being positioned as a successor to the much more overtly romantic Twilight.
Also starring Liam Hemsworth, Elizabeth Banks, Woody Harrelson, and Lenny Kravitz, The Hunger Games hits theaters March 23.
Synopsis:
Every year in the ruins of what was once North America, the evil Capitol of the nation of Panem forces each of its twelve districts to send a teenage boy and girl to compete in the Hunger Games. A twisted punishment for a past uprising and an ongoing government intimidation tactic, The Hunger Games are a nationally televised event in which "Tributes" must fight with one another until one survivor remains. Pitted against highly-trained Tributes who have prepared for these Games their entire lives, Katniss is forced to rely upon her sharp instincts as well as the mentorship of drunken former victor Haymitch Abernathy. If she's ever to return home to District 12, Katniss must make impossible choices in the arena that weigh survival against humanity and life against love. THE HUNGER GAMES is directed by Gary Ross, and produced by Nina Jacobson's Color Force in tandem with producer Jon Kilik. Suzanne Collins' best-selling novel, the first in a trilogy published by Scholastic that has over 16 million copies in print in the United States alone, has developed a massive global following.