See A Few Seconds Of New 'Prometheus' Footage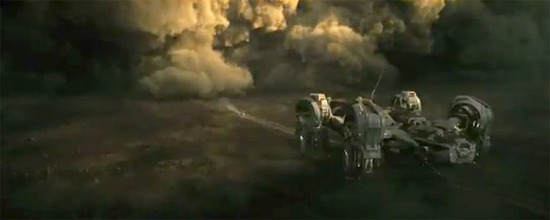 I can't realistically complain about the increasing practice of releasing trailers for trailers in the exact same post in which we're showing you a trailer for a trailer. Instead I'll take this moment to note that Fox seems to be very aware of a high level of interest in Prometheus, and is prepared to exploit every aspect of it.
The full trailer for Ridley Scott's new film will be released on Saturday, March 17, during an event parallel to this year's Anaheim incarnation of WonderCon. Fox says:
On Saturday, March 17th at 4 p.m. PST/ 7 p.m. EST, legendary director Ridley Scott will premiere the first full trailer for one of 2012's most anticipated films, PROMETHEUS, at the AMC Downtown Disney in Anaheim, CA. This invite-only premiere will follow a 30 minutes Q&A session with the iconic director conducted by Prometheus writer/producer Damon Lindelof.
That even will be presented online via Livestream, but in the meantime you can see a bit of the new trailer below.
Silly as the 'trailer for a trailer' approach is, I do think that Fox is doing a great job managing the film, especially in the wake of all the speculation and rumor about just how this movie relates to Alien. The studio's approach to teasing trailers is a lot easier to accept, too, when we also get stuff like the TED Talk featuring Peter Weyland.
Prometheus stars Noomi Rapace, Michael Fassbender, Charlize Theron, Idris Elba, Sean Harris, Kate Dickie, Rafe Spall, Logan Marshall-Green, Guy Pearce, and Patrick Wilson. The film will hit theaters June 8, 2012.
Ridley Scott, director of "Alien" and "Blade Runner," returns to the genre he helped define. With PROMETHEUS, he creates a groundbreaking mythology, in which a team of explorers discover a clue to the origins of mankind on Earth, leading them on a thrilling journey to the darkest corners of the universe. There, they must fight a terrifying battle to save the future of the human race.