'Indie Game: The Movie' - You'll Believe A Video Game Documentary Can Make You Cry [SXSW 2012 Review]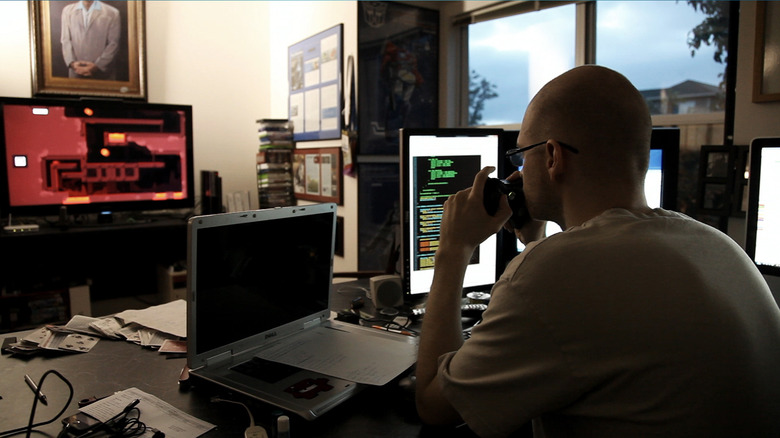 Editor's Note: We are republishing Germain's SXSW review since the film is being released today in New York City and Los Angeles. Click here to find a listing of where the movie will be playing as it expands in the coming weeks.
/Film readers, I owe you an apology. While I saw about 40 movies at Sundance in January, one of the films I regrettably missed was Indie Game: The Movie. That seemingly minor oversight meant for two months, you were likely walking around without the knowledge that directors Lisanne Pajot and James Swirsky have made a truly magnificent documentary that you will love.
Focusing on the development of three well-known independent video games (Braid, Fez, Super Meat Boy) the film manages to not only give us a glimpse into the fascinating world of indie game development, it drips with true emotion at every single turn. Call it fanboy nostalgia but Indie Game: The Movie tugs at your heart strings while weaving dramatic stories with precision and vision. It's a must see. Read more after the jump.
The bulk of Indie Game: The Movie focuses on the development of two games. One is called Fez, which was developed by Phil Fish and the other is called Super Meat Boy, developed by Edmund McMillen and Tommy Refenes. (It also has a lot about Braid, created by Jonathan Blow, but it's not as prevalent.) All these games were created from the ground up by these guys, hence the term "indie game." There's no team of thousands. Just a few guys in a room with their computers. And that's where Indie Game really shines. It focuses on why these guys decided to get into game development, how their lives lead up to it and how their games are a reflection of their current selves. This, coupled with their risk of failure, is human interest at its best.
Pajot and Swirsky tell these stories beautifully, pacing and structuring the movie with an awesome energy that'll have you jotting down a game title one minute, then on the edge of your seat the next. They picked Fez and Super Meat Boy as the two primary subjects for good reason. There's a ton of real life drama and intrigue surrounding them and whether your a fan of gaming or not, you can't help but enjoy the ride.
Admittedly, the film doesn't give the audience much context for how indie games fit into the larger world of video games. There's no clear juxtaposition against some of the big companies to show us just how different indie games are. Plus, after watching the film, I'm still not sure exactly how video games are made. That would have been a welcome addition.
Those gripes aside, I'd watch Indie Game: The Movie again right now. I think fans of video games will likely find more to smile about in the film but, when these guys succeed (and fail) the movie has done such a good job developing them, you can't help but feel deep emotions. After watching Indie Game: The Movie, you will believe a documentary about video games can make you cry.
/Film rating: 8.5 out of 10