Photos: Mondo Opens New Gallery With Sci-Fi Show Including Star Trek, Dune, Akira And More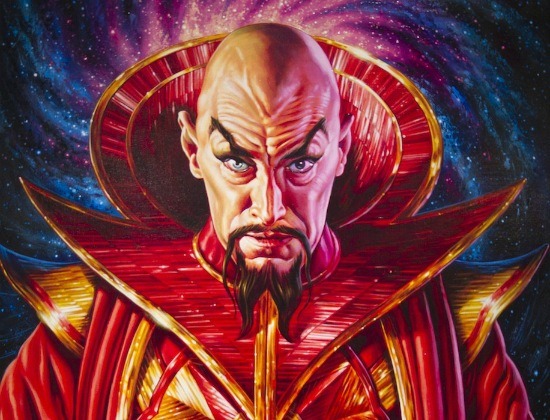 The worm is out of the sand. Mondo's secret new gallery opened Saturday with a sci-fi themed show that left jaws on the floor and wallets extremely empty. Tyler Stout did his first Mondo poster since October, Star Trek II: The Wrath of Kahn, Kevin Tong did Forbidden Planet, Martin Ansin kicked off a new Terry Gilliam Director's Series with Brazil, Jay Shaw did David Cronenberg right with The Fly and Crimes of the Future, Phantom City Creative went all George Melies with A Trip to the Moon and much, much more: Akira, Dune, War of the Worlds, Planet of the Apes, The Fountain, Real Steel, it goes on and on, 38 in total. Check out those image and more after the jump.
Here are a bunch of images of the art on display at the new Mondo Gallery. You can check it out yourself at 4115 Guadalupe in Austin TX. This show will be up through April 14 and regular gallery hours are noon – 6 p.m. Wednesday through Saturday as well as by appointment.
Note: Some of the below images are official press images, others are from my iPhone. Suffice to say they all look pristine and beautiful in person. Mouse over each for the artist's name.
Later this week, we'll have much more about Mondo's latest venture including an interview with the Mondo team of Justin Ishmael, Mitch Putnam and Rob Jones. Then, next month, they'll be back with a show based on the show Adventure Time. Along with all your regularaly scheduled Mondo releases.