I Was In A Movie At South By Southwest 2012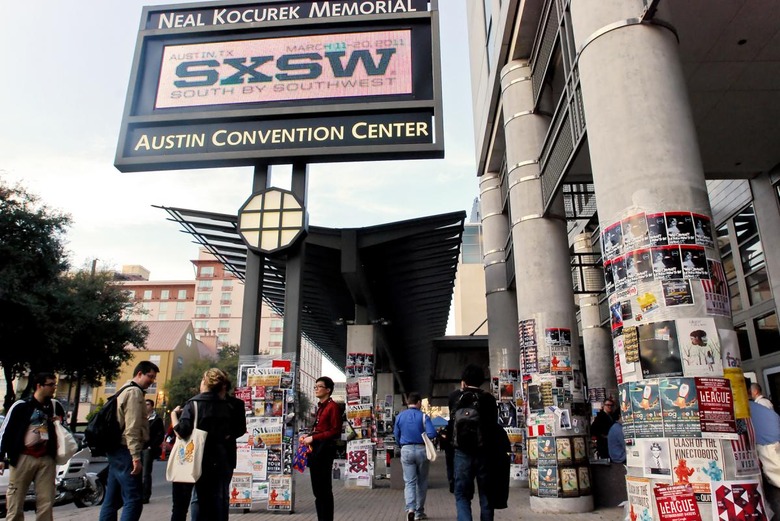 If you want to appear in movies, the absolute worst job you can have is writing about them. Writers don't aspire to be actors because we're not particularly photogenic and much prefer the experience of film from the outside looking in rather than vice versa. That equation flipped for me, though, on the opening night of South by Southwest 2012.
While most of the film fans in Texas were watching The Cabin in the Woods I was around the corner, waiting to see a poster documentary called Just Like Being There, which I appear in as myself. Watching yourself on the big screen for the first time is a once-in-a-lifetime, wholly new and crazy experience. An experience I thought I'd share with you all.
Act I
The long story of how this came to be is as follows. A few months ago, a friend of mine e-mailed me with a link to a website for an upcoming, in-progress documentary on gig posters. Besides writing about movies, my other major passion is limited edition, pop culture art, the kind of stuff Mondo is famous for and this was a movie about just that. We here at /Film get a lot of e-mails about in-progress films and will write about them if the topic is something we're interested in. This was one of those times.
I contacted the filmmakers, wrote about their movie - officially revealing the title - and for the next several months kept running into director Scout Shannon and producer Johanna Goldstein at various poster related events I was attending on my own. The LA Mondo Mystery Movies and several Gallery 1988 openings for example. We'd always chat about the progress of the film and they mentioned they might want to shoot in my apartment as I have an extensive and gaudy collection.
However, what went from a simple B-roll request turned into something more. According to them, while shooting a movie focused on music gig posters, they began to learn more and more about the new trend towards movie gig posters and the whole subculture that surrounds that. A subculture I'm very familiar with as I sort of helped shepherd it by writing about it extensively on this very website. And while they had interviews with all of the people who were doing the actual work, they needed someone to contextualize it from an outsiders perspective. They asked if I would do an interview. I said yes.
Act 2
Flash forward to February 2012 and Just Like Being There is accepted into South by Southwest 2012. This was great news because I knew the movie was nearly done, would play at a major festival and I'd finally have a chance to see it. I immediately made plans to travel to Austin and attend.
Sitting down in a theater for a movie in which you appear, but aren't sure how you fit in, is extremely awkward. In the 100 minute movie, I knew I'd probably only be on screen for a few seconds. In that time though, you keep wondering what you'll be saying and if it would help the film. Would I look and sound dumb? These are all concerns you never think about as a regular film fan because you're so removed from the film itself. You just want an experience. I was in the experience and, believe me, it's a real experience.
The majority of the film focuses on how the gig poster world sort of blossomed into a huge part of the underground music scene in the last few decades. Then, about two-thirds of the way into it, it starts to shift into Mondo and more movie related art. That's when someone who looked vaguely like me popped on screen in a black blazer and green Olly Moss t-shirt. I'm being totally honest when I say I was so into the film's story at this point it took about two seconds to register. But there I was, saying something about posters for movie events being a natural progression. It happened so fast I didn't even have time to process.
The director used me about 4 more times after that, talking about the work of artist Tyler Stout, Mondo Mystery Movies and more. I distinctly remember I'm used a lot in a section of how movie posters are regularly "flipped," meaning bought at cost and resold immediately for a much larger sum. What was coolest about this section is that the other people Shannon used around me to make the point were some of the people I'm the biggest fans of, such as the men who run Mondo and artists like Tyler Stout, Kevin Tong and Olly Moss. Then there's little old me. I felt like I'd become a part of something bigger.
Act 3
When the film was over, I found it surprisingly easy to distance myself from the movie because, me aside, it told an interesting story in a entertaining way. (Note: I won't be writing a review of the film, but we should have one on the site in the near future from a neutral party.) My parts were weaved in so naturally that I almost didn't see myself up there. I just saw an 80-foot-tall thing who kind of resembled me, helping to forward this story of how posters and poster collecting are a great way to celebrate fandom and nostalgia.
How the film will do or what the future holds for it are out of my control. Tweaks will be made, positive and negative reviews will be released and that's all something I'm looking forward to. Because, for one night only, someone who watches movies for a living got to see how the other side lived. It's not something I'd do all the time, but I'll never forget it.
Photo Credit: Brittany Ryan