Lionsgate Plans 'Action No.1,' About Theft Of Nicolas Cage's Superman Debut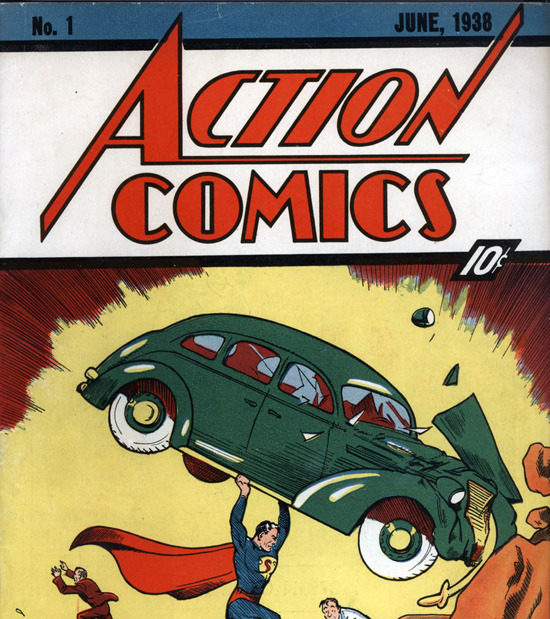 In 2000, the Nicolas Cage-owned copy of Action Comics No. 1, featuring the first appearance of Superman, was stolen from the actor. The mint-condition issue, worth upwards of $1.5m, was missing until 2011, when the comic was found in an abandoned storage locker in the San Fernando Valley.
Robert Ben Garant and Thomas Lennon (Reno 911!, Night at the Museum) have scripted a film called Action No. 1 that covers the theft, or at least a fictionalized version of it. And now Lionsgate has picked up the script and will hopefully turn it into a film.THR notes that Garant and Lennon originally wrote the script with Nic Cage in mind to play himself, but says that it is currently unlikely that Cage will play the part. In other words, we may have finally found the crazy role that Cage won't play. Though Jason Statham has been mentioned in connection with the script in the past, he isn't involved right now.
The story would feature "a group of nerds who attempt to steal Cage's copy of Action Comics No. 1," but right now it is still at script stage, with no other cast or director attached.
Though this is likely to end up as a comically-exaggerated version of the story, the real tale is pretty weird: the comic was among a partial collection stolen from Cage's home, after which he took an insurance payout for the loss. It was found by a man who had bought the contents of a storage locker at auction; a string of contacts in the collectibles world quickly established the book as being Cage's missing issue.
Authenticated by the dealer that had sold it to Cage in the first place, further insurance company wrangling took place. One weird detail is that, in the decade between theft and recovery, occasional tips were given to police about the location of the book. One sent them to a safety deposit box in Tennessee that contained a Victoria's Secret catalogue with a fake Action Comics cover. Epic trolling? Seems so.