Sequel Bits: Joss Whedon Wants To Go Smaller With 'The Avengers 2', Plus: 'Beverly Hills Ninja 2', 'John Carter 2', 'Halloween 3D', '[REC]3 Genesis'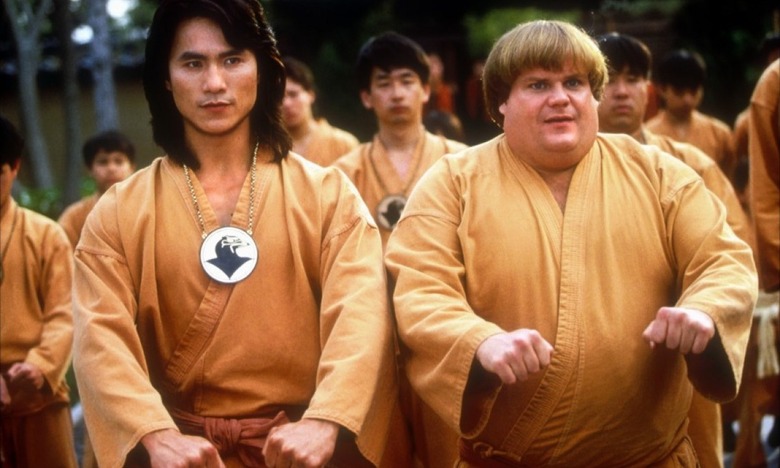 Halloween 3D gets cut and Beverly Hills Ninja 2 gets sued, but on a happier note, Joss Whedon has some really good ideas for a theoretical The Avengers 2. After the jump:
Andrew Stanton and Michael Chabon are working on John Carter 2
Defying tradition, Joss Whedon wants to go smaller for Avengers 2
Speaking of which, John Slattery would not mind doing Avengers 2
Beverly Hills Ninja 2 gets slammed with another lawsuit
Dimension Films cuts Halloween 3D from the 2012 calendar
[REC]3 Genesis clips hit the web
Producer Jim Morris revealed that they'd written treatments for the first three films of the franchise when starting on the first John Carter — not because they were sure there'd be a sequel, but because they wanted "to have the story arcs figured out so that if we did have that good fortune, we wouldn't have boxed ourselves into a corner."
But now that John Carter's on the verge of hitting theaters, work has begun in earnest on a follow-up. "Andrew [Stanton] and Michael Chabon have started work on a script for a second film, and we're hoping we're gonna be able to put that into production," Morris said. [THR]
The Avengers won't be out for another two months, but with a property that big, it's never too soon to start thinking about a sequel. And honestly, director Joss Whedon's ideas sound pretty damn great. Breaking from the tradition of each sequel going bigger than the last, Whedon revealed that he actually wants to go smaller with the sequel. Asked how he could possibly top The Avengers, Whedon told SFX:
By not trying to. By being smaller. More personal, more painful. By being the next thing that should happen to these characters, and not just a rehash of what seemed to work the first time. By having a theme that is completely fresh and organic to itself.
Throughout his earlier projects, Whedon's shown a great understanding of character, and The Avengers is apparently no exception. "I want to know what makes them tick, what makes them flawed, what makes them fight – and ultimately, what makes them awesome," he said. "I go to these movies for those moments when the heroes define themselves, either through action or deliciously overwritten speeches." Me too, Joss. Me too. The Avengers drops May 4. [Geek Tyrant]
It seems like half the cast of Mad Men have been rumored for one superhero film or another, but only a select few have actually made the leap. One of those is John Slattery, who portrayed Tony Stark's father Howard Stark in Iron Man 2. However, his stint with Marvel hasn't gone much further than that — he was replaced by the much younger Dominic Cooper for the '40s-set Captain America: The First Avenger, and wasn't called upon for this summer's The Avengers, either.
"I was kind of hoping" to reprise the role, Slattery explained, "but the character in Captain America was 20 years earlier than the part I played, which was already 30 years earlier than the time of the film, so the short answer is no!" Still, Slattery wouldn't mind stepping back into Howard's shoes, perhaps for the next Avengers. "Would I like to do Avengers 2? Yeah!" he said. [MTV]
After years of back and forth about Halloween 3D, the project finally looked to be picking up steam when The Weinstein Co. announced a targeted release date of October 26, 2012. But now it seems the horror sequel's back off again. ShockTillYouDrop reports that Halloween 3D has been dropped from the 2012 release calendar, and that no new date has been announced at this time. A recent(ish) incarnation of the project had Patrick Lussier attached to direct, but that incarnation was ultimately halted. [Coming Soon]
Paco Plaza's [REC]3 Genesis is scheduled to premiere at the SXSW Film Festival today, but those of us not lucky enough to attend will have to content ourselves with these brand new clips. Diego Martín and Leticia Dolera star as a couple enjoying their wedding day. When a strange illness begins to affect some of their guests, however, their joyous occasion turns into a nightmarish experience. The first clip shows us the "before," as blissful friends and family enjoying the festivities, while the second offers a glimpse of the "after," in which bride and groom struggle to survive.Bloody Disgusting writes that Magnet/Magnolia plans to release the film via VOD and limited release at an unspecified point later this year, after which it'll hit DVD.
Projects fall apart on their way to the big screen all the time, but few failed films cause as much legal trouble as Beverly Hills Ninja 2 has. Back in 2008, David Hasselhoff signed on to star in the sequel, with Mitchell Klebenoff set to direct. The picture never came to fruition, however, and last year Klebanoff sued the Korean investors who'd acquired the rights to the franchise. An arbitrator awarded him $262,000 after deeming that he hadn't been properly terminated. Now another involved party, producer Jay So, has stepped forward to sue Klebanoff and the Korean investors, claiming that he was cheated out of his compensation for the film.
To make a long story short: According to So's complaint, he was hired by Klebanoff for an up-front fee of $100,000, a credit, and backend participation. After starting pre-production and setting Klebanoff up with financer Jungho Han, however, Klebanoff and Han made a deal with each other to cut So out of the project. When So demanded the $100,000 he was owed, Han refused to pay.
At the same time, Beverly Hills Ninja 2 hit financial difficulties that led to its stopping production. According to THR, the movie was never finished because "Klebanoff and Han argued over things like whether the film's lead actress should appear nude in the film." Klebanoff was then fired, which led to his lawsuit that I mentioned at the start of this story.