'What To Expect When You're Expecting' Trailer #2 - "No Judging," Insist The Dudes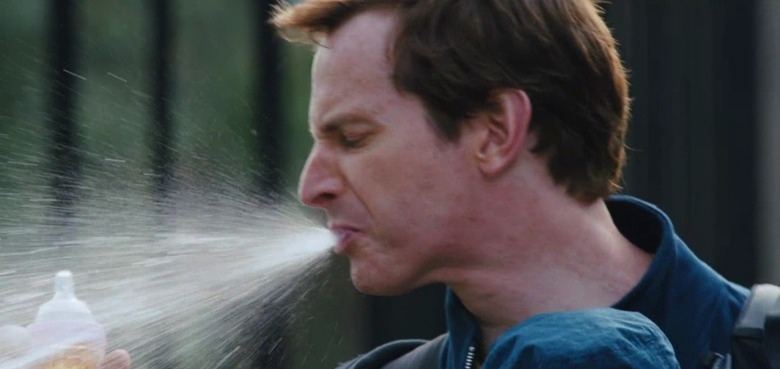 It's not surprising that most of the marketing materials so far for What to Expect When You're Expecting have focused primarily on the women. It's inspired by a world-famous pregnancy manual, after all, and (Arnold Schwarzenegger in Junior notwithstanding) men don't often get pregnant. But with a comedically gifted male cast that includes Chris Rock, Thomas Lennon, Ben Falcone, Rob Huebel, and Dennis Quaid, it's about time we got to see what the dads have been up to. Watch the dude-centric new trailer after the jump.
[via Coming Soon]
Yeah, that doesn't look much funnier or more interesting than the earlier, girlier trailer. In the grand scheme of things, though, it seems like the XYs are getting the better end of the deal. At least none of them have had to pose for embarrassing character posters with asinine quotes ("You pee on a stick") floating next to their over-Photoshopped heads.
And why, why, why is the hilariously unexpected change of heart about epidurals a staple of every single pregnancy storyline ever?
Directed by Kirk Jones from a script by Shauna Cross and Heather Hach, What to Expect When You're Expecting drops May 18. The star-studded ensemble cast also includes (deep breath) Cameron Diaz, Jennifer Lopez, Anna Kendrick, Elizabeth Banks, Brooklyn Decker, Matthew Morrison, Chace Crawford, Joe Manganiello, Rodrigo Santoro, Amir Talai, et cetera.
Synopsis:
Over the moon about starting a family, TV fitness guru Jules and dance show star Evan find that their high-octane celebrity lives don't stand a chance against the surprise demands of pregnancy. Baby-crazy author and advocate Wendy gets a taste of her own militant mommy advice when pregnancy hormones ravage her body; while Wendy's husband, Gary, struggles not to be outdone by his competitive alpha-Dad, who's expecting twins with his much younger trophy wife, Skyler. Photographer Holly is prepared to travel the globe to adopt a child, but her husband Alex isn't so sure, and tries to quiet his panic by attending a "dudes" support group, where new fathers get to tell it like it really is. And rival food truck chefs Rosie and Marco's surprise hook-up results in an unexpected quandary: what to do when your first child comes before your first date?