Casting Bits: Michael Peña To Play Cesar Chavez For Diego Luna; Jennifer Beals In 'Lord Of Vinyl;' Thomas Mann In 'Beautiful Creatures'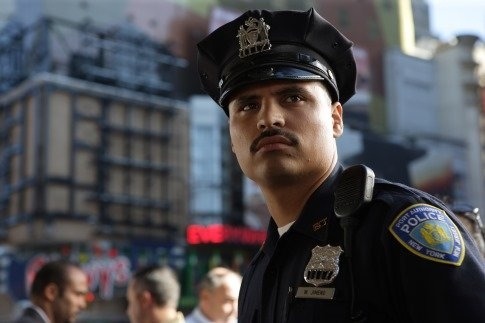 Michael Peña has called labor organizer Cesar Chavez his dream role, and now the actor is set to play the part in Chavez, which will be produced and directed by Diego Luna. That's a great step up from supporting roles in films like Battle: Los Angeles, Tower Heist and The Lincoln Lawyer.
Peña will be joined by America Ferrera as Helen Chavez, and Rosario Dawson as Dolores Huerta. Variety says the film, scripted by Keir Pearson, "depicts Chavez organizing the largest non-violent protest in U.S. history to accomplish his ultimate goal of obtaining basic human rights for over 50,000 farm workers in California."
Chavez will start shooting in Sonora, Mexico in April. Gael Garcia Bernal and John Malkovich are also among the film's producers. This is Luna's second film about a public figure, as his first directorial effort was the documentary J.C. Chavez, about Mexican boxer Julio Cesar Chavez.
After the break, Jennifer Beals produces and stars in a jazz-themed indie called The Lord of Vinyl, and the supernatural YA adaptation Beautiful Creatures gets a little addition from Project X.
Jennifer Beals will produce and star in The Lord of Vinyl, an indie to be directed by Dennis Bartok, who also scripted. (Bartok also wrote and produced the horror anthology Trapped Ashes.)
The film "follows the bittersweet life and comic despair of a lonely fortysomething Angeleno who's obsessed with jazz and hides from the disappointment of the world inside the beauty of music." Things pick up a bit when he meets an unhappily married woman (Beals) who works at the post office, while at the same time he tries to patch things up with his estranged 11-year old daughter. The jazz theme comes by way of a plot point that involves a surviving recording by New Orleans jazz pioneer Buddy Bolden.
I wanted to like Trapped Ashes but can't say I cared much for it, so I'm hoping that Bartok has put together a stronger script for his directorial debut. [Variety]
Finally, Thomas Mann, newly famous thanks to Project X, is now in talks to join Beautiful Creatures, the adaptation of the supernatural romance novel by Kami Garcia and Margaret Stohl.
Richard LaGravenese wrote and will direct, and Jack O'Connell and Alice Englert are already cast as "star-crossed teens who uncover dark secrets about their families, their history and their town."Viola Davis, Emma Thompson and Emmy Rossum are all in the film, too. Thomas Mann would be Link (erm), the best friend of the main character. Link is caught between his friend and a witch played by Rossum.
Mann is also in Josh Schwartz's Fun Size and Hansel and Gretel: Witch Hunters, and has a role in Max Mayer's indie As Cool as I Am. Beautiful Creatures will shoot in April in Louisiana. [Variety]