Sequel Bits: 'Project X' Sequel Already In The Planning Stages, Plus 'Cloverfield 2,' Journey 3'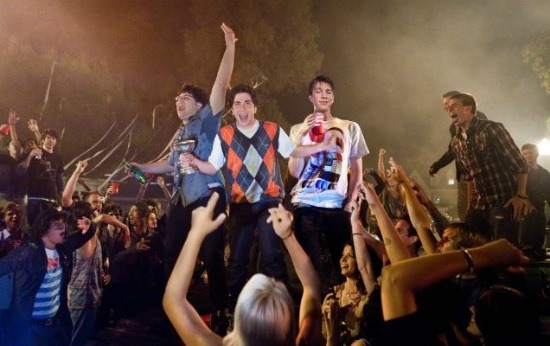 Project X, released last Friday, got some people angry, but Warner Bros. isn't among those irritated by the teen party movie. The low-budget film is considered a success with $21m earned so far, and the studio and producers Todd Phillips and Joel Silver are already putting together plans for a sequel.Michael Bacall (story and co-writer on the first movie) is working on a sequel treatment with Matt Drake. They started that work before the film was released, and in the wake of its success are moving forward. Until that's handed in we're not likely to get any more info, including whether or not any of the main cast (Thomas Mann, Oliver Cooper and Jonathan Brown) will return, or if the sequel would focus on different kids. [THR]
After the break, The Cabin in the Woods director Drew Goddard talks about a Cloverfield sequel, Rose Byrne pitches Bridesmaids in Space, and Journey 3 director Brad Peyton hints at the film's scope.
Drew Goddard scripted Cloverfield, which Matt Reeves directed for producer J.J. Abrams. In the couple years since Cloverfield's release, Abrams and Reeves have both gone on to have prominent directorial careers, and Goddard is beginning his own with the 'at long last' release of The Cabin in the Woods. But Goddard tells STYD he's still ready to do Cloverfield 2.
I'm in, I'm ready to do it. Someone call J.J. and tell him to get moving, but because Matt and J.J. and I have been fortunate enough to be busy, it's hard syncing our schedules up. We're all very passionate about returning to that world... If you asked each of us what we wanted to do, you'll get three different answers, which is how the first film was.  The aesthetic of Cloverfield benefits from that.  Three voices pulling it.  Look, nothing would make me happier than to get the three of us in the room to get started.
Abrams is busy, however, with his Star Trek sequel, and Matt Reeves has a full plate of directorial prospects. If Cabin does well, perhaps Goddard could see the writing and directing reins in his hands for the giant monster sequel.
Now let's take a comedy break for Bridesmaids. The talk of a sequel for last year's comedy hit has died down a bit, primarily because Kristen Wiig doesn't really want to make a sequel, and as she was one of the prime architects of the film, everyone else involved seems to be following suit. But questions are still being asked of the various cast members, and Rose Byrne, who played the bride in Bridesmaids, joked to MTV that she wants to pitch a prequel rather than a sequel.
I'm pitching a prequel. Yeah. Before they were bridesmaids. Maybe in outer space. Yeah, that's what I'm thinking. Just modern. Go modern. Let's go, right? Let's reinvent it.
It's much more likely that we'll see Byrne in a sequel to X-Men: First Class, which we know Matthew Vaughn has been signed to direct. She's also in The Place Beyond the Pines, the film Derek Cianfrance (Blue Valentine) shot last year with Ryan Gosling and Bradley Cooper.
We mentioned yesterday that Warner Bros. and New Line have made deals with Journey 2: The Mysterious Island director Brad Peyton and writers Brian Gunn and Mark Gunn to craft a third film in the Journey series. We still don't know the story for the threequel, currently planned for 2014, or if any of the cast from the second film (Josh Hutcherson, Michael Caine, Dwayne Johnson, Luis Guzman, Vanessa Hudgens) will return.
But we've got this, which Peyton told THR:
I grew up a fan of Verne, so I know a lot about the mythologies... Mysterious Island was one of eight or nine really seminal works. I know we've just scratched the surface of what we can do. This one's going to be a lot bigger. We're going to go to a completely different world. It's just going to be a bigger experience, and we're going to grow the mythology. Journey 2 was about rebooting a franchise; now it's about making the seminal work in the franchise.