VOTD: Watch Part Of The Table Read For 'Superbad'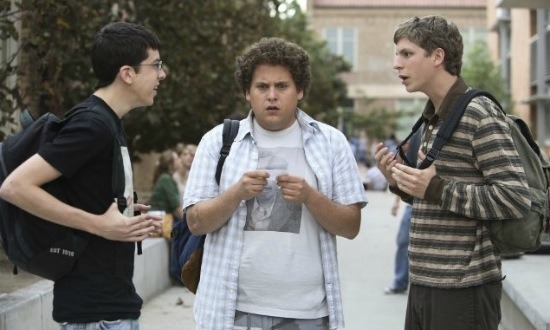 When making a movie, before a single frame of film is shot, the entire cast does a table read where they literally sit around a table and read the entire script. It's a great way for cast members who don't know each other to meet one another and give everyone an idea of what the final movie might play like. Some actors look forward to this more than the final movie because it's a one time only, never again captured version of the thing they're going to create.
Once in a while these table reads make it onto DVDs as extra features. Other times they make it onto YouTube and years later get featured on Reddit. That's what happened with this table read of the 2007 Greg Mottola film Superbad. Check it out after the jump.
Thanks to Reddit (via The Daily What) for the link. The language is very NSFW. It's of the dual sex scene at the party near the end.
I'd love to see, not just this scene, but the entire table read of this movie. Even with a small clip like this, the energy is through the roof. Early proof of the strength not only of Evan Goldberg and Seth Rogen's script, but Mottola's spot-on casting, including star making turns by Johan Hill, Emma Stone and Christopher Mintz-Plasse. Plus I would have loved to see Paul Rudd do more as he's obviously sitting in for someone who couldn't make it to the table read.
Do you have any other links to great table reads? What movies would you like to see if you could?