Sequel Bits: 'Transformers 4' Casts Its First (Very Tiny) Role, Plus: 'Bill & Ted 3', 'Men In Black 3', 'Journey 3', '21 Jump Street 2'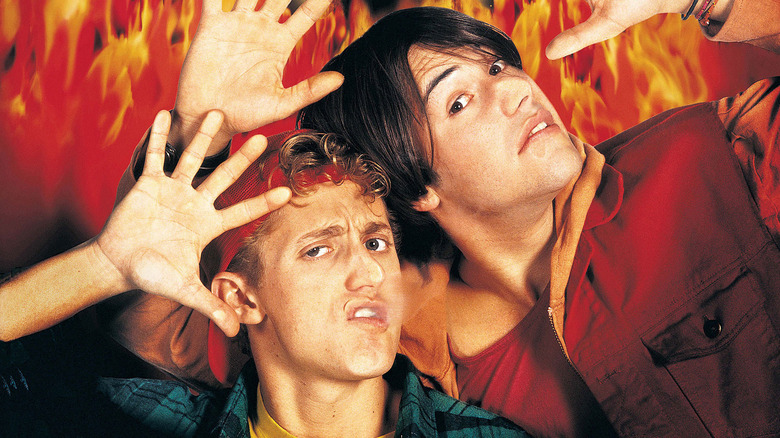 Everything old is new again in today's Sequel Bits, which looks to the '90s, the '80s, and even the 19th century for inspiration. After the jump:
Transformers 4 auctions off a walk-on role
Bill & Ted 3 has a script, but no green light
Men in Black 3 implores you to share your alien encounters
Journey 3 gets fast-tracked for 2014
Michael Bacall's working on 21 Jump Street 2
Two decades after the release of Bill & Ted's Bogus Journey, Bill & Ted 3 is still coming together, albeit rather slowly. Back in April, star Alex Winter tweeted that he'd received a finished draft of the script, but now, nearly a year later, the project doesn't seem to have moved forward much.
Asked for an update on the third film, Keanu Reeves told The Independent, "Yeah, we have a script. We're trying to put it together. It's a good script too." But the Wyld Stallyns reunion may not happen for some time yet. Earlier this week, Winter tweeted, "Script done? Check. -We love it? Check. -Green light? Working on it!" [Collider]
Like so many blockbuster franchises before it, Men in Black 3 has turned to viral marketing to further build up the hype. Commuters in New York City (well, at least one of them) have noticed a subway stop ad declaring that "THE MEN IN BLACK SUITS ARE REAL," with a number for a toll-free hotline. Check out the photo below: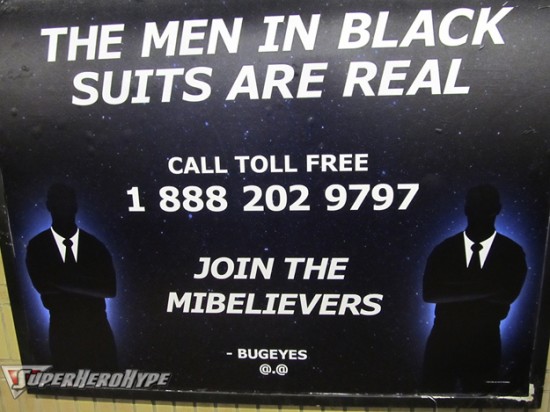 Fans or conspiracy theorists who dial the number have the chance to record messages of their own alien encounters, which may be used by the marketing campaign in the future. The hotline also directs callers to the website themeninblacksuitsarereal.com. [SuperHeroHype]
There was a four-year gap between 2008's Journey to the Center of the Earth and last month's Journey 2: The Mysterious Island, but New Line plans to pick up the pace for the next installment of its Jules Verne-inspired franchise. The studio has just finalized deals with Journey 2 director Brad Peyton and writers Brian Gunn and Mark Gunn for Journey 3, which is targeting a 2014 release date.
New Line has yet to start discussions with returning cast members, and considering Journey lead Josh Hutcherson's major role in this month's The Hunger Games it seems perfectly likely that he won't be back for Journey 3. Which may be just as well; as he creeps into his early 20s, he may be outgrowing the kid-friendly Journey series anyway. [THR]
21 Jump Street won't hit theaters until next weekend, but thanks to strong early buzz, there's already rumblings of a sequel. Star/writer/exec producer Jonah Hill revealed last week that he'd already begun work on a script for another 21 Jump Street, and it seems screenwriter Michael Bacall (who penned the first one) has joined him.
"All I can really say is that I'm working on it," Bacall told MTV. "I met with Jonah and Channing [Tatum] and all the producers and executives and yeah, we're looking to get it going as quickly as possible. I'm about to start the draft." Bacall also teased that the second film could pick up where the first left off. "I think if you've watched the movie, by the end you'll have a pretty good idea where the sequel takes place," he said.