'In Our Nature' Trailer - Roger Sterling Disappoints Matt Saracen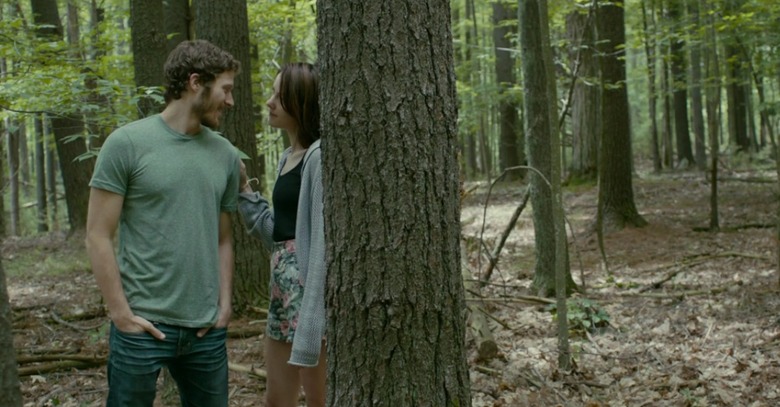 On Mad Men, John Slattery proved to be fantastic at letting down his loved ones; on Friday Night Lights, Zach Gilford demonstrated an equal talent for being disappointed in his. So it makes perfect sense that the pair would team up to play a father and son with a rocky relationship in In Our Nature, an indie drama slated to premiere later this week at the South By Southwest Film Festival.
Specifically, Gilford stars as a son who still harbors resentment over his parents' split. When a scheduling mishap leads to Gilford and his girlfriend (Jena Malone) sharing the family vacation home with his dad and his girlfriend (Gabrielle Union), father and son are forced to come to terms with one another and with the women in their lives. Watch the trailer after the jump.
[via Cinema Blend]
This trailer's all over the place tonally. It starts off looking like a slightly raunchy romantic comedy, or possibly a horror story given that the photogenic young couple is headed to an isolated cabin in the woods. Then a track that wouldn't sound out of place on the Friday Night Lights soundtrack marks the sudden shift into serious-minded family drama, before some Garden State-style screaming and a gentle rock tune turns it into a sweet, feel-good indie.
I'm hoping the actual film isn't as uneven as this trailer is, because In Our Nature actually looks like a decent little drama otherwise. Indie flicks about troubled interpersonal relationships are a dime a dozen at film festivals, but Slattery and Gilford are both known for giving wonderfully nuanced performances. Whatever the rest of the movie is like (and it's tough to tell from just this clip), I'd expect the two leads to add some depth and texture to the proceedings.
Written and directed by first-timer Brian Salveson, In Our Nature will debut this Saturday at SXSW. No theatrical release has been announced at this time.