Fox Cancels 'Terra Nova', Series Being Shopped To Other Networks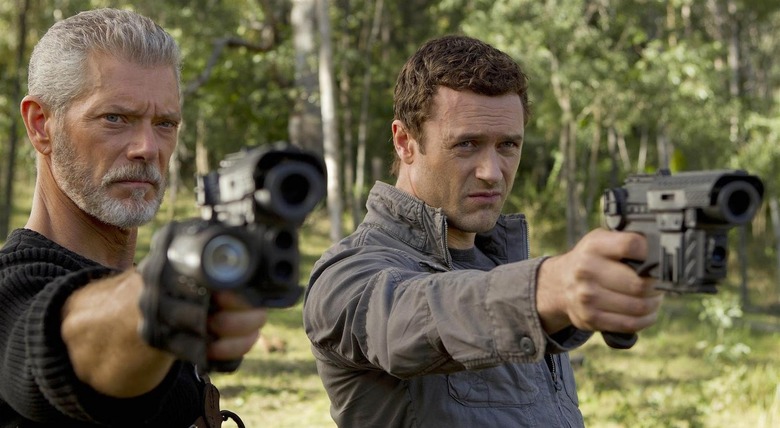 The wait is finally over for Terra Nova fans... but sadly, this isn't a case of the patient being rewarded. Or not yet, anyway. Fox has given the axe to the prehistoric family drama, which performed moderately in its first season. But there's still a sliver of hope to be found, as the series is now being shopped around to other networks. I wouldn't hold my breath for it to find a new home, but it's certainly better than nothing. More details after the jump.
However, entertainment president Kevin Reilly ultimately couldn't get on board with any of the new ideas, and ultimately decided to pull the plug. Fox will now try to sell the drama to another network, but considering Terra Nova's mediocre ratings and massive budget, it frankly seems unlikely that it'll get picked up.
It's an unfortunate end for a series that suffered a long string of setbacks even before it made it to air, including staff shakeups, snowballing production costs, and complicated special effects. Unsurprisingly, those early troubles did nothing to help the series. In January, Reilly told press at TCA that "the show was hunting for itself creatively through the season." "The fact is if we if this is all we produce, we made money on it, the studio made money on it, the audience enjoyed it, the show looked fantastic," he said at the time.
The move may leave Fox with a bit of a gap in its lineup, as another Fox drama, House, ends its run this spring and newcomers Alcatraz and The Finder seem unlikely to get renewals. The fate of Fringe remains up in the air as well. Another new drama, the Kiefer Sutherland-starring Touch, is scheduled to make its debut later this month.
[Additional source: HitFix]