'Ice Age: Continental Drift' Trailer - It's The Start Of The World As We Know It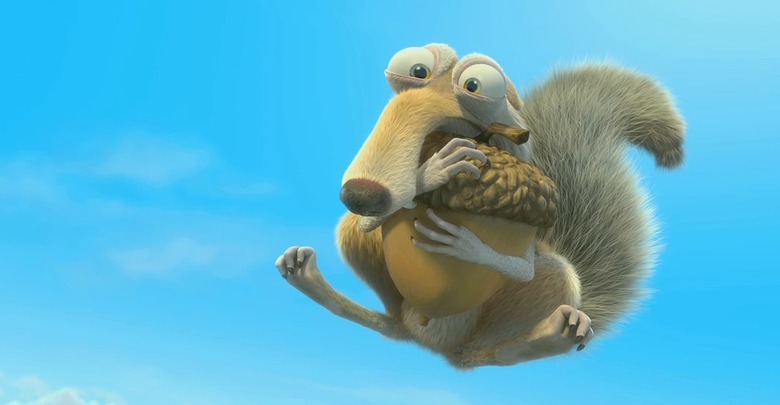 In the decade or so since the start of Fox's Ice Age series, the franchise has pulled in a range of high-profile stars including Jack Black, Will Arnett, Jay Leno, and Simon Pegg to compliment its central quartet of Ray Romano, John Leguizamo, Denis Leary, and Chris Wedge.
This time around, for Steve Martino and Michael Thurmeier's Ice Age: Continental Drift, the core characters are joined by the likes of Jennifer Lopez, Nick Frost, Rebel Wilson, Aziz Ansari, Josh Gad, Peter Dinklage, and more. It's a very solid cast, but is the project worthy of their talents? Watch the first trailer after the jump and decide for yourself.
Yes, that definitely looks like an accurate representation of the prehistoric continental drift. (Kidding. And yes, I understand that that's not what they were going for.) Head to Apple for a better look in HD, or for any of the various international versions of the trailer — it also comes dubbed in French, German, Korean, Spanish, Chinese, and about ten other languages, though the footage seems to remain largely the same.
The Ice Age franchise is far from the worst thing aimed at kids, but as an adult I'm pretty indifferent to this movie. The jokes are mostly inoffensive, but they're also mostly unfunny, and my mild affection for Scrat (Wedge) is more than cancelled out by my irritation with Sid (Leguizamo). If you feel differently, though — or if you have kids who do — Ice Age: Continental Drift opens July 13.
Synopsis:
Scrat's nutty pursuit of the cursed acorn, which he's been after since the dawn of time, has world-changing consequences – a continental cataclysm that triggers the greatest adventure of all for Manny, Diego and Sid. In the wake of these upheavals, Sid reunites with his cantankerous Granny, and the herd encounters a ragtag menagerie of seafaring pirates determined to stop them from returning home.