'Ouija' Revived At Universal After A $95 Million Budget Cut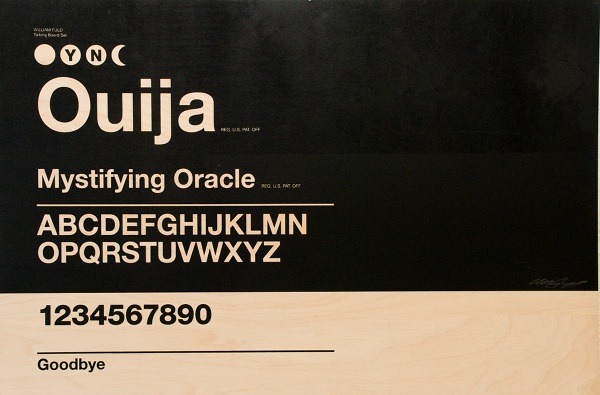 Last August, Universal decided not to move ahead with the film version of Hasbro's board game Ouija. The film was reportedly a $100 million plus adventure in the mold of Pirates of the Caribbean, produced by Michael Bay's Platinum Dunes and directed by McG from a script by Tron: Legacy writers Edward Kitsis and Adam Horowitz. Universal deemed that project too expensive and let it go. Last we heard, a new screenwriter was reworking the property and other studios were being courted.
Monday, Universal revealed they're back on board with the board game, though it's now sporting a totally revamped look. Once costing over $100 million, the new version will cost closer to $5 million. I'm not missing a zero. Five million dollars. To help with that, they've brought along producer Jason Blum who made hits out of other micro budget films like Paranormal Activity and Insidious. A 2013 release is planned. Read more after the jump.
Deadline, Variety and The Hollywood Reporter all put up stories on this development within two minutes of each other, all with varying levels of information. We'll make it easy on you and summarize.
All the film's original producers at Platinum Dunes are coming back, with Blum as an addition. McG is gone. Likely departed as well is the Kitsis and Horowitz script. There's no word if Marti Noxon's latest work on the project will fit in with its new micro-budget model or if it'll be a whole new spin. Either way, it's good news for Hasbro who has had some issues of late, particularly with Universal dropping their expensive takes on movies.
With movies like the aforementioned Paranormal Activity and Insidious, as well as the more recent releases Chronicle and Project X   grossing their budget and then some on opening weekend, studios are starting to rethink mega budget movies like the original version of McG's Ouija. (For another, less extreme example, see Warner Bros. Akira remake.) If a $5 million budget means Ouija is going to focus on story and innovation rather than expensive visuals, I'm all for it. I hope this is a trend that continues not just a small production companies, but major studios as well.
(Note that this $5m budget will be for the new version of Ouija going forward. Universal has very likely already spent a good bit of money — possibly equal to that new budget amount — on the version that didn't happen. )
Do you think this is a step in a positive direction both for this film and movies in general?
 Image: A revamped Ouija board by Olly Moss