Sequel Bits: Danny DeVito Totally Wants To Do Another 'Twins', Plus: 'Scream 5', 'Salt 2', 'Friday 4', 'Iron Man 3', 'Men In Black 3', Jack Ryan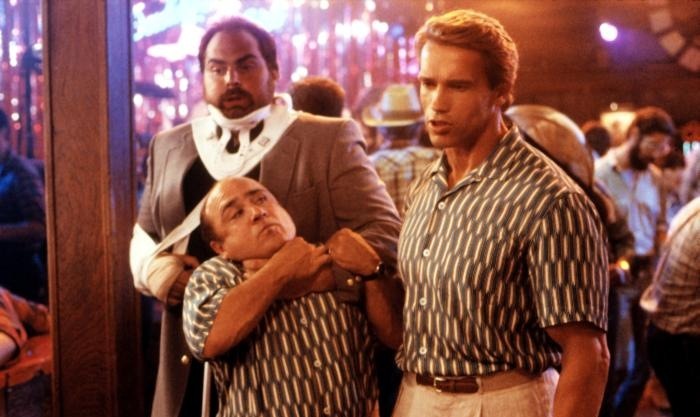 Seeing as everything else from the '80s has been dragged back to the movie theater, it probably really is just a matter of time before we get another Twins. Also after the jump:
We now know who won't be writing Scream 5
Paramount's Jack Ryan film hits money trouble
Angelina Jolie rejects the script for Salt 2
Ice Cube's working on the Friday 4 script
Iron Man 3 starts set work, code name revealed
MIB3's massive, ballooning budget partially explained
It's pretty clear that another Twins is still a while off, even if it does happen. With the recent revival of Schwarzenegger's movie career, though, it doesn't seem out of the realm of possibility. Now, who wants to start talk of a Junior 2? [Collider]
Though both Harvey Weinstein and Wes Craven have said that a Scream 5 is happening, almost no details have been revealed about the project at this point. Now the first bit of new info in a while isn't about what will be happening, but what won't be. Asked by Assignment X about the project, screenwriter Kevin Williamson gave a matter-of-fact response: "I don't know. I'm not doing it." Williamson's been with the franchise since the first installment, having penned Screams 1, 2, and 4. [Bloody Disgusting]
Over two years since we got news that Paramount would be reviving its Jack Ryan franchise with Chris Pine in the lead role, the project still seems to be having some trouble getting off the ground. According to MovieHole, the problem is "purely financial." The site reports that while the studio loved Tony Peckham's latest draft of the script, it's nervous about the hefty price tag attached to it, and is insisting on cost-saving edits. Still, the source says, the Jack Bender-directed project remains on track to shoot after Pine finishes with Star Trek 2 later this year.
And speaking of rejecting scripts: While it's oh-so-common for stars to talk about only doing a sequel with the right script, Angelina Jolie's actually walking the walk. The actress has just turned down Kurt Wimmer's newest draft of Salt 2, halting the studio's hopes for a sequel centered around her badass agent. As it's unlikely a Salt sequel would work without Jolie's involvement, Wimmer is going back to the drawing board to write up a new version of the script that'll get Jolie's approval. [MovieHole]
Talk of a fourth Friday film has popped up periodically over the past several years, but this time around, the project actually seems to be moving ahead. Or so claims Ice Cube, who mentioned during a recent 21 Jump Street press day that "there's a lot of movement" on the film. "I'm writing the script right now, so we worked out a deal with New Line," he said. "The ball is rolling. We invited everybody back and we'll have a fun movie.
Everybody? Including his Friday co-star Chris Tucker, who sat out the second and third installments of the franchise? "I hope so," Cube responded when asked whether he thought Tucker would return. It'll likely be a tough sell, however — Tucker was recently quoted as saying he "doubted" he'd do Friday 4, though "I'll never say never." [Collider]
As the excitement surrounding Marvel Studios' The Avengers continues to ramp up, another Marvel film has quietly begun setting up. According to ComicBook.com, Iron Man 3 has begun set construction in Wilmington, NC, with director Shane Black aiming to start filming in late April or early May.
The project is currently going by the code name Caged Heat, which could possibly be a reference to Luke Cage, or the 1974 women's prison film, or something else, or, y'know, nothing at all. The completed picture is scheduled to hit theaters May 3, 2013. [Comic Book Movie]
That Men in Black 3 has had a very rocky road to the big screen is no secret, but a new report sheds still more light on exactly the kinds of problems that plagued Sony's long-awaited sequel. According to The Wrap, star Will Smith's diva behavior was the cause of much of those troubles.
Smith also had a set rebuilt in order to accommodate an improvised scene he filmed, according to two people involved in the production. The scene involved a telephone call between Smith's character, Agent J and Tommy Lee Jones's character, Agent K. Some time after Jones filmed his portion of the call, it was Smith's turn. But Smith improvised quite a bit, and his part of the conversation no longer matched Jones's. Smith told producers he wanted to see Jones on camera responding to the new material — a request that required the crew to rebuild the set, or at least a few walls of it — so Jones could film there again.
On another occasion, early in the filming, Smith had the crew tear down a nearly completed set at Kaufman Astoria Studios because it "wasn't right," a person with knowledge of the project told TheWrap.
Sony denies that sets were rebuilt for Smith, but whatever the cause, the project's multiple setbacks pushed its budget up to $215 million. While such a price tag isn't entirely unheard of , it marks an increase of $75 million over the budget of Men in Black 2. Men in Black 3 opens May 25, 2012. [Comic Book Movie]