'Men In Black 3' Trailer: More Aliens, More Brolin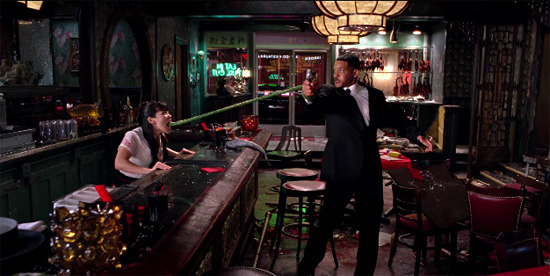 Men in Black 3 had a complicated production schedule, as the story, concocted by Will Smith, hadn't been fully scripted when the shoot started, leading to an extended break to finish writing the movie before starting up again. Director Barry Sonnenfeld recently talked about that, saying, "We knew starting the movie that we didn't have a finished second or third act. Was it responsible? The answer is, if this movie does as well as I think it will, it was genius. If it's a total failure, then it was a really stupid idea."
We've seen one trailer for the film, but it didn't show all that much. That may have been an intentional tease in part, but it was probably also due to a lot of the effects being unfinished. There's a new trailer that now shows a lot more. And though some of the effects remain unfinished (check out that big green panel thirty seconds in) this time we get a lot more of the film's time-travel plot, a lot more aliens, and a good look at Josh Brolin playing the young version of Tommy Lee Jones' Agent K.
Nice little moment in there with Bill Hader as Andy Warhol, but we're still not seeing much of the new villain, played by Jemaine Clement, or of some of the other new cast, such as Alice Eve.
Thank Yahoo for the trailer. Men in Black 3 opens on May 25 2012.
In Men in Black 3, Agents J (Will Smith) and K (Tommy Lee Jones) are back... in time. J has seen some inexplicable things in his 15 years with the Men in Black, but nothing, not even aliens, perplexes him as much as his wry, reticent partner. But when K's life and the fate of the planet are put at stake, Agent J will have to travel back in time to put things right. J discovers that there are secrets to the universe that K never told him — secrets that will reveal themselves as he teams up with the young Agent K (Josh Brolin) to save his partner, the agency, and the future of humankind.