'ParaNorman' Trailer - Laika's Weird, Wonderful Follow-Up To 'Coraline'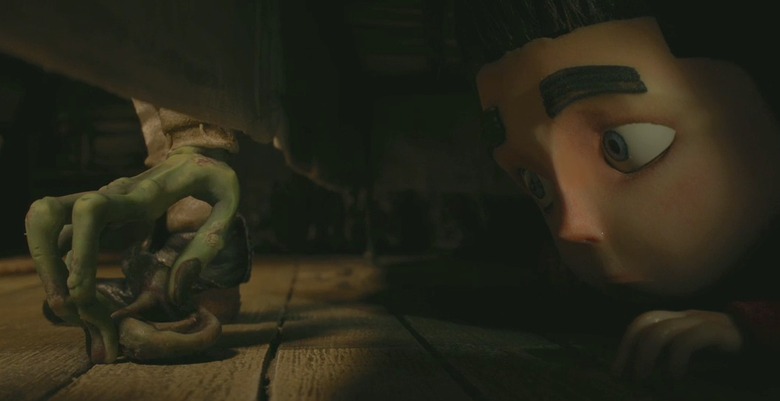 It's a good week for fans of all-ages stop-motion animated films with a deathly twist. Just yesterday, we showed you the trailer for Tim Burton's Frankenweenie, and we now have a new trailer for ParaNorman, the upcoming feature by Coraline studio Laika.
Kodi Smit-McPhee lends his voice to Norman, a misfit kid with the ability to see and speak with the dead. When an ancient curse is unleashed, however, his unique abilities make him his community's best hope for salvation from the attacking supernatural forces. The film boasts an excellent cast that also includes Jeff Garlin, John Goodman, Anna Kendrick, Casey Affleck, Leslie Mann, Christopher Mintz-Plasse, Elaine Stritch, and Tucker Albrizzi. Watch the trailer after the jump.
[via Collider]
Head to Apple for higher-res.
Having loved Coraline, I've got high hopes for ParaNorman. So far, the trailers haven't disappointed. ParaNorman looks sweet and playful, like the kids' film it is, but with just enough of a dark sensibility to appeal to adults — or oddball kids like Norman. Plus, I dig the look of the movie, which again is adorable yet offbeat.
Directed by Sam Fell (Flushed Away) and Chris Butler (the storyboard supervisor for Coraline), ParaNorman opens August 17.
Synopsis:
The new 3D stop-motion comedy thriller from animation company LAIKA, reteaming the company with Focus Features after the groundbreaking Academy Award-nominated "Coraline." "ParaNorman" is, following "Coraline," the company's second stop-motion animated feature to be made in 3D. In "ParaNorman," a small town comes under siege by zombies. Who can it call? Only misunderstood local boy Norman (voiced by Kodi Smit-McPhee), who is able to speak with the dead. In addition to the zombies, he'll have to take on ghosts, witches and, worst, of all, grown-ups, to save his town from a centuries-old curse. But this young ghoul whisperer may find his paranormal activities pushed to their otherworldly limits.