Sequel Bits: '3D Sex And Zen' Sequel Goes 4D, Plus: 'Star Trek 2', 'The Lost Symbol', 'Men In Black 3'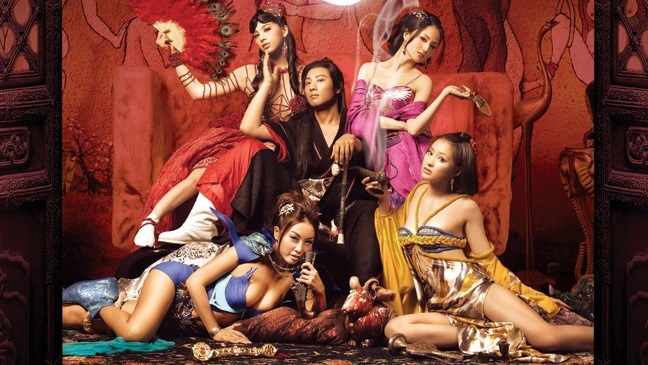 Apparently, this tradition of each sequel going bigger than the last isn't just a Hollywood thing. It seems the folks behind that Avatar-defeating Chinese softcore film 3D Sex and Zen are determined to get even wilder this time around, and they've figured out just the way to do it. After the jump:
- 3D Sex and Zen's sequel ups the ante by going 4D
- Some photos and quotes from Star Trek 2
- The Da Vinci Code sequel The Lost Symbol finds a writer
- Men in Black 3 will get a new trailer next week, has new photos now
To go with the heightened sensory experience, Shiu also promised that 4D Sex and Zen would include more intense sex scenes. "This time we will be paying more attention to that, and will be enlisting the aid of experts from Japan to direct these scenes," he said. Shooting on the film is scheduled to begin at the end of this year. [Twitch]
This new batch of Star Trek 2 set photos isn't anywhere near as juicy as that last one — okay, in truth, they don't reveal anything at all. But what the hell, let's check 'em out anyway. This time around, we get a glimpse of Chris Pine, who unfortunately does not appear to be in costume.
Poor Zachary Quinto. It can't be fun to walk around with the full Spock hair and makeup all day. [Trek Movie]
TrekMovie's also got a couple of small quotes from Quinto and Zoe Saldana about the production. Quinto told E! that the sequel is still evolving, and that nothing's set in stone at this point. "What you guys are going to see has yet to be solidified, decided [and] defined and that's the great part about working with someone who is so mind-bogglingly talented as J.J. Abrams," he said. Quinto also spoke about the film's "overwhelming schedule," adding "I love to work hard and I'm certainly doing that right now."
Saldana seems to be on the same page, saying "I'm like happy exhausted. I'm literally going to bed with the biggest smile... I feel like I'm home."
Emmy-nominated Recount scribe Danny Strong is moving into feature film writing with Sony's The Lost Symbol, a follow-up to previous Dan Brown adaptations The Da Vinci Code and Angels & Demons. Mark Romanek (Never Let Me Go) is still likely to direct, as reported last fall, while Ron Howard (who directed the first two films) and Brian Grazer will produce. Though none of the cast are locked in at this point, Tom Hanks is expected to reprise his role as Harvard symbiologist Robert Langdon.
Strong is taking over from Brown and Steven Knight, who previously wrote a script for the film. Strong's talents will next be seen in Jay Roach's Game Change, which airs on HBO later this month.
It's been two and a half months since we got that first trailer for Men in Black 3, which means it's high time we got another look. Sony seems to agree, as a new trailer is now scheduled to drop March 5. In the meantime, check out these new stills from Yahoo. Josh Brolin's resemblance to Tommy Lee Jones really is impressive.
Men in Black 3 hits theaters May 25.