Mondo To Open Art Gallery During South By Southwest 2012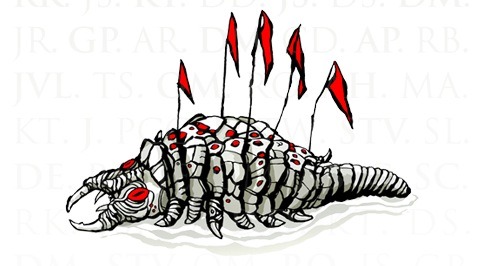 As if movies like The Cabin in the Woods, 21 Jump Street, Rec 3: Genesis and The Raid weren't good enough reasons to be excited for South by Southwest 2012, Mondo has just announced they'll be opening a permanent gallery at the festival. Finally a place in Austin, Texas for people to go and check out Mondo's own brand of bad ass, movie themed art at any time.
To kick it off, they'll be opening a mystery show on March 10 at 6 p.m. Nothing is known about the show, but the invitation has a few cryptic clues. Check it out after the jump.
Here's the public invitation to the opening of the Mondo Gallery.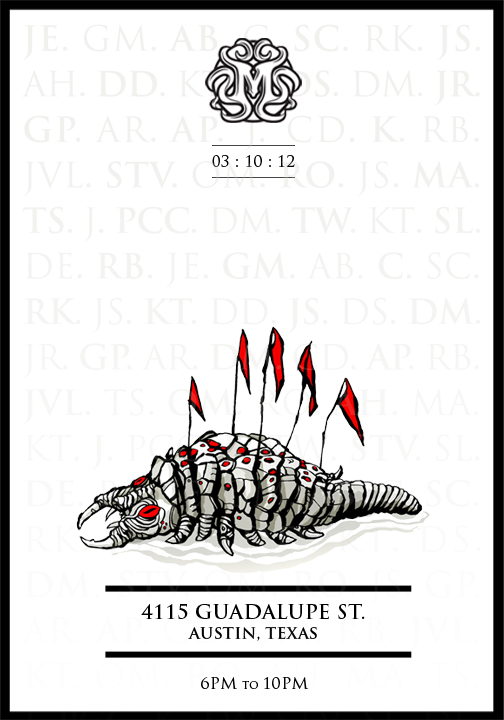 Speculation on poster sites has been running rampant for a few days since this image first leaked. First of all, that appears to be a brain bug from Star Trek II: The Wrath of Kahn and, to my eye, it looks like it was drawn by Tyler Stout. Stout, probably the fan's favorite artist under Mondo's employ, hasn't released a poster since October 2011. This might be the time.
Then there are the initials. "OM, TS, DS, KT, DD, etc". Seems like artist names to me. Olly Moss, Tyler Stout, Drew Struzan, Kevin Tong (or Ken Taylor) Daniel Danger and more. Will those artists be in attendance or have pieces in the show? Or maybe those initials are just there to throw us off the scent and simply commemorate all the artists who've worked with Mondo in the past. All will be revealed March 10.
Besides the potential of what'll be shown at the show, as a fan of Mondo, I can say it'll be nice to have a bigger space to visit besides just the corner they used to have at the Alamo Drafthouse South Lamar. That was tiny and underwhelming compared to what the company has become. Hopefully this gallery lives up to their high standards.
No matter what happens, you can be damn sure my boots will be on the ground to uncover the mystery first hand and report back to you, right here.