'Piranha 3DD' Trailer: "Whatever It Is, I Don't Like It"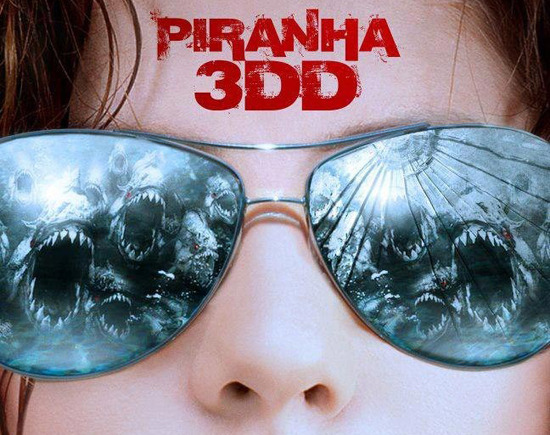 Contrary to the quote I've chosen to headline this article, I kinda do like this. Something tells me I shouldn't, and some of what is shown off in the trailer for John Gulager's Piranha 3DD is unremittingly awful. The very concept is pretty embarrassing. But the 2010 Piranha 3D was a movie that made me laugh like crazy. Sometimes I laughed with it, and sometimes at it, but since the whole enterprise was an unvarnished piece of exploitation I don't think that distinction matters much.
The sequel appears to have one ambition, which is to make the exploitative aspects of the 2010 movie seem timid. This trailer makes Piranha 3DD look dumb and gross — not just blood and guts gross, but "I hope my mom doesn't know I'm enjoying this" gross. It also makes the film look like one that I'll howl at once again, possibly in pure disbelief that anyone paid for and acted in it.
All that said, while there is nothing in this trailer that is technically not safe for work, some workplaces will probably be a lot less tolerant than others about rolling this one. Check it out below.
Piranha 3DD features Danielle Panabaker, Matt Bush, Chris Zylka, David Koechner, Meagan Tandy, Paul James Jordan, Jean-Luc Bilodeau, Hector Jimenez, Adrian Martinez, Clu Gulager, Gary Busey, Katrina Bowden, Christopher Lloyd, Ving Rhames, Paul Scheer and David Hasselhoff. Saw 3D writers Marcus Dunstan and Patrick Melton wrote Piranha 3DD.
Having awoken from their spring break extravaganza at Lake Victoria, the swarm heads upstream where they look to make a meal out of Big Wet, a local water park where when it comes to fun, nobody does it wetter! Thought they came to get wet, get loaded and get some, the staff and patrons get more than they bargained for when they must face the fiercest, most bloodthirsty piranhas yet. Lead by the strong-willed, studious Maddy and her friends, Barry and Kyle, the trio must dive in and take on these man-eating creatures using every ounce of their being...but can they be stopped?
[STYD]