Sequel Bits: 'Star Trek 2' Set Video, Mike Tyson Confirmed For 'Hangover 3' Plus '21 Jump Street 2',' 'Hellboy 3' And 'Green Lantern 2'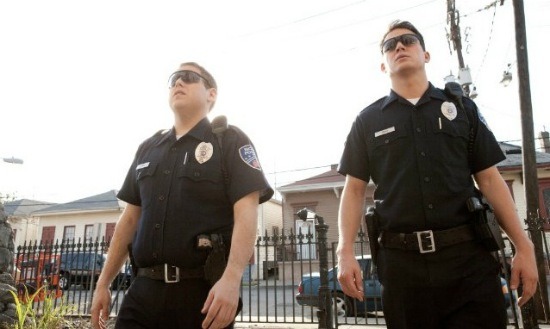 One sequel that's currently filming, two that are almost certain to happen and two that may never happen are all part of today's Sequel Bits. After the jump, check out:
A spy video from the set of Star Trek 2.
Mike Tyson confirming he'll appearing in The Hangover Part III.
Jonah Hill said he's begun to write the sequel to 21 Jump Street.
Ron Perlman is not confident that Hellboy III will ever happen.
Ryan Reynolds seems pessimistic when it comes to Green Lantern 2.
Photos from the top secret set of J.J. Abrams' Star Trek 2 have hit the internet over the last week and, unsurprisingly, someone shot video of the same scene. It features Zachary Quinto as Spock fighting Benedict Cumberbatch playing the film's primary villain. The video is courtesy of Film Is Now Extra (via Collider) which is apparently a very Extra/Enterainment Tonight show. So there's voice over, hosts, the whole deal.
It does cover a few minutes of the scene so I'd consider this spoilers.
After the uber-success of the previous two parts, The Hangover Part III is certainly in the near future. The film is rumored to have a May 2013 release and even Bradley Cooper, during the pre-show for the Oscars, mentioned he was getting ready to go back to the series. (Though Ed Helms doesn't know when that'll happen). Now Mike Tyson has confirmed he'll be back for what everyone expects will be the third, and final, part of Todd Phillips' trilogy. The news came out during a radio interview Tyson did with Dan Patrick of ESPN (Thanks to Coming Soon for the heads up).
Though 21 Jump Street hasn't opened yet (it'll have its official coming out party at South by Southwest in the next few weeks) Sony is incredibly confident in the film, starring Jonah Hill and Channing Tatum. They showed it to press months early (spoiler – it's really, really good) and at the Oscars, Hill told E! that he's already writing the sequel:
We are writing the sequel now. We got [the greenlight] by the studio to start writing the sequel.
Thanks to Bleeding Cool for the heads up.
Shock Till You Drop ran a video of Ron Perlman dousing fan hopes they'll ever get to see Hellboy 3. You can head to the site to see the whole thing, but here is the most important bit:
If I had to bet, I would bet there will be no Hellboy 3, but I haven't given up hope.  I feel it's too good an idea, the third part of a trilogy to ever completely abandon.  It answered a lot of questions brought up in [parts] one and two.  And, Guillermo's idea of how to finish the trilogy is so amazingly theatrical.  It would be a great shame if we never did it.
And finally, more news of a sequel that will likely never see its brightest day. In Superhero Bits today we ran a IGN interview with Ryan Reynolds that primarily discussed Deadpool. In the middle of that chat, he said the following pessimistic thing about Green Lantern 2:
I have no idea [if Green Lantern 2 will happen]. Those movies have huge scale budgets and those kinds of things. Working in budget world like that is not fun, because you have a lot of investment and outcome. But if we end up doing a 'Deadpool' movie that could be a lot of fun.
What do you think about these sequel bits?