VOTD: Steven Spielberg Watches The Oscar Nominations In 1976 For 'Jaws'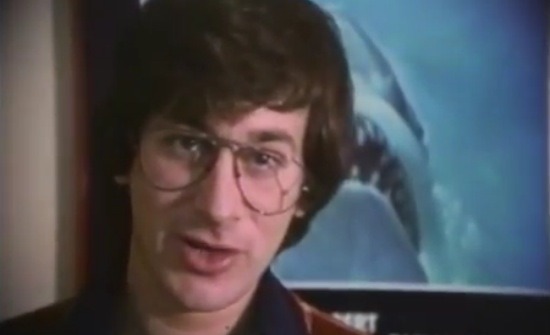 When we think of Steven Spielberg today, we think of a man who has done it all and then some. He's won Oscars, made films that will last a lifetime and can pretty much can do whatever he wants, whenever he wants, because he's Steven Spielberg. But it wasn't always like that for the man who directed Raiders of the Lost Ark, E.T., Jurassic Park, Schindler's List and so many more. A video has surfaced from 1976 showing a very young Spielberg, just months removed from his first major commerical success – a little film called Jaws – watching the Oscar nominations unfold live. He says he expects 11 nominations. He doesn't get them. It's a fascinating portrait of an artist unaware of his future success. Check it out after the jump.
Thanks to Video Thunder (via Ain't It Cool News) for this video.
That morning, Jaws garnered four Oscar nominations: Best Editing, Best Score, Best Sound and Best Picture. It would eventually end up winning the first three but losing Best Picture to the deserving One Flew Over the Cuckoo's Nest.
Besides the undeniable voyeuristic nature of this video, there are so many things you can take from it. You see Spielberg's young, brash confidence in full effect. You see his penchant for pleasing an audience as well as his respect, but ever-so-slight bitterness, towards his fellow nominees. I'm sure film fans could write dissertations on the psychological ruminations present here.
Also of note are Spielberg's friendships, one with a man in a tuxedo t-shirt (identified as actor Frank Pesce) as well as the man in the Jaws shirt, actor Joe Spinell, best known for his work in The Godfather and Rocky films. They seem to be there to prop him up but also playing things up for the camera.
According to the YouTube account where the video was uploaded, this video was shot for a TV show called TVTV Looks at the Academy Awards.  And while it was a safe bet Jaws would do well at the Oscars that year, up against such worthy movies as Cuckoo's Nest, Nashville, Barry Lyndon and Dog Day Afternoon just to name a few, it's no surprise what was then the biggest hit of all time (remember this is pre-Star Wars) didn't fare as well as expected. In retrospect, I'd reckon Spielberg is happy the film took three awards and then changed the face of filmmaking forever.
What are your thoughts on this video?