'The Deep Blue Sea' Trailer - Tom Hiddleston Thinks Rachel Weisz Is Super Hot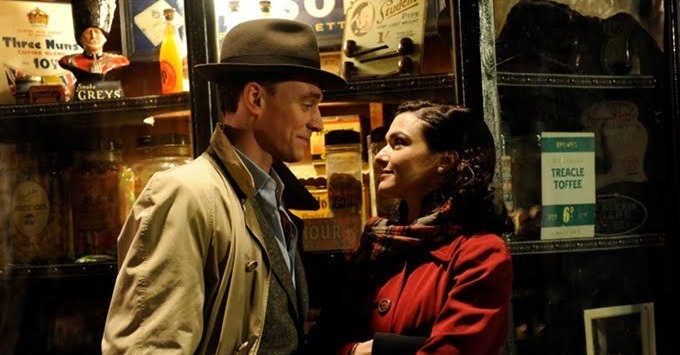 Valentine's Day may have already come and gone, but between the re-release of Titanic and the opening of Terence Davies' The Deep Blue Sea, it looks like cinema's most romantic days are still ahead of us. Rachel Weisz stars as Hester Collyer, whose marriage to an older judge (Simon Russell Beale) falls apart when she strikes up a passionate affair with a dashing ex-RAF pilot (Tom Hiddleston). Though I found the previously released trailer to be a bit maudlin for my taste, the new one is more restrained, and far more moving as a result. Check it out after the jump.
[via Moviefone]
It seems like Hester really should know better than to fall head over heels for a man whose pickup line is the mid-20th century equivalent of "You're, like, really hot." But seeing as the fellow in question looks like Hiddleston, I suppose I can't blame her.
In all seriousness, I love how richly old-fashioned this trailer feels, from the period setting to the piano music to the timeless tale of romantic tragedy. Weisz and Hiddleston are reliably excellent performers, and The Deep Blue Sea seems to be no exception. I look forward to going through half a packet of Kleenex when the film hits theaters March 23.
Synopsis:
Master chronicler of post-War England, Terence Davies (The Long Day Closes, The House of Mirth) directs Rachel Weisz as a woman whose overpowering love threatens her well-being and alienates the men in her life. In a deeply vulnerable performance, Rachel Weisz plays Hester Collyer, the wife of an upper-class judge (Simon Russell Beale) and a free spirit trapped in a passionless marriage. Her encounter with Freddie Page (Tom Hiddleston), a troubled former Royal Air Force pilot, throws her life in turmoil, as their erotic relationship leaves her emotionally stranded and physically isolated. The film is an adaptation of British playwright Terence Rattigan's 1952 play, featuring one of the greatest roles for an actress in modern theatre. Through flashbacks, Mr. Davies creates memorable cinematic compositions against the backdrop of post-war England.