Final 'John Carter' Trailer - Mark Strong Is Not Impressed By John Carter's Earthly Charms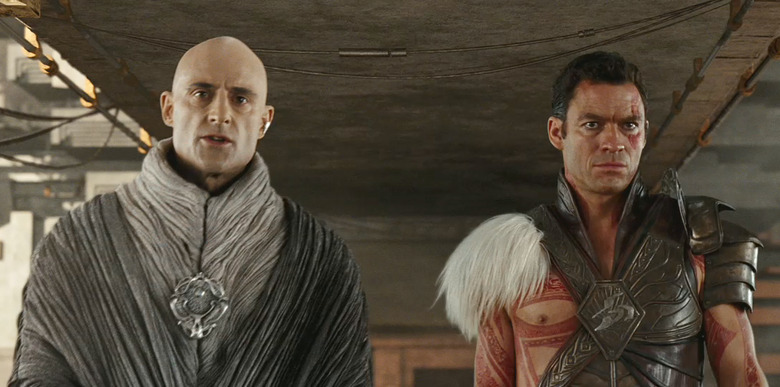 With exactly ten days left until the opening of John Carter, Disney has released what I'm assuming is the final trailer for the film. And while I haven't loved all of the previous marketing, it appears the team has learned from its mistakes because this is probably the best one they've released so far. The new trailer is heavier on menacing Mark Strong, eye-popping action, and plot, and lighter on Taylor Kitsch's stilted readings of generic dialogue. Watch the video after the jump.
Finally, a John Carter trailer with actual stakes! Most of the previous trailers have offered John Carter's bland action-star heroism as his reason for getting involved in Barsoom's affairs, but this one emphasizes that his home planet Earth is in danger as well – a much more interesting explanation for his actions.
The new video also gives more screen time to Strong's character Matai Shang, apparently one of the antagonists of the story. It's nice to finally put a face to the menacing threat that's plaguing John Carter and his pals.
My only complaint is that there isn't nearly enough of Woola, the adorably hideous creature that could end up being to John Carter what Uggie was to The Artist.
Also starring Lynn Collins and Willem Dafoe, John Carter hits theaters March 9. Keep an eye on this space for our one-on-one interview with Kitsch, going up later this week, and director Andrew Stanton, due next week.
Synopsis:
From Academy Award(R)-winning filmmaker Andrew Stanton comes "John Carter"–a sweeping action-adventure set on the mysterious and exotic planet of Barsoom (Mars). "John Carter" is based on a classic novel by Edgar Rice Burroughs, whose highly imaginative adventures served as inspiration for many filmmakers, both past and present. The film tells the story of war-weary, former military captain John Carter (Taylor Kitsch), who is inexplicably transported to Mars where he becomes reluctantly embroiled in a conflict of epic proportions amongst the inhabitants of the planet, including Tars Tarkas (Willem Dafoe) and the captivating Princess Dejah Thoris (Lynn Collins). In a world on the brink of collapse, Carter rediscovers his humanity when he realizes that the survival of Barsoom and its people rests in his hands.