'Doomsday Book' Trailer: Korean Sci-Fi Anthology With A Segment From 'I Saw The Devil' Director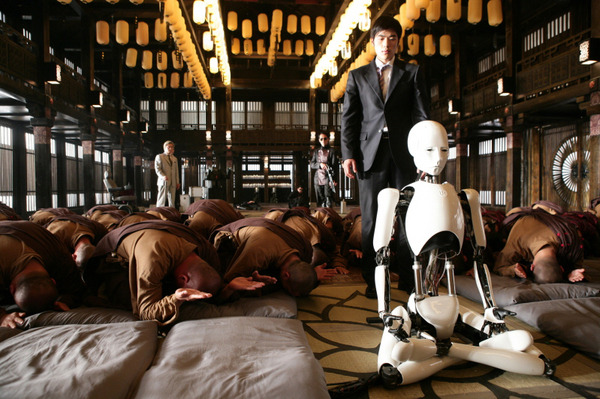 Some of the biggest genre-oriented directors out of South Korea have, in addition to their signature features, dallied with segments in anthology films. Park Chan-wook (Oldboy) did a part in the film Three...Extremes; Bong Joon-ho (Mother, The Host) did a segment for Tokyo!; and Kim Jee-woon (I Saw the Devil, the upcoming Arnold Schwarzenegger movie The Last Stand) did a segment in 3 Extremes II.
Now Kim Jee-woon is going back to the anthology, as he is a producer and director on Doomsday Book, a three-part anthology about the end of the world. Yim Pil-sung (Hansel & Gretel) is his co-conspirator, with the directors each doing one segment solo and collaborating on the third. As his solo effort, Kim directs a segment about a robot that develops its own consciousness. (Pictured above.) An English-subbed trailer is now available; check it out below.
Frankly, a lot of this footage plays like parody — the cuts from dialogue like "the mysterious virus" to "you mean this robot thinks on its own?" to "the meteor is approaching" could be right out of a Saturday Night Live or late-night talk show comedy skit. But I have faith in Kim Jee-woon, and suspect there's more going on here than suggested in this teaser.
There's a bit of history to this one, as best I can tell the two solo segments were shot some time ago, with a third originally set to be done by director Han Jae-rim.  But Han's story was never shot and the film went dormant for some time before Kim and Yim co-directed a third segment, allowing the film to be completed. (Twitch recounts some of that history.)
Here's the official description of the film as it stands:
Two acclaimed Korean directors unfurl three unique stories of human self-destruction in the modern high-tech era. In a hope to restore the humane compassion in the insusceptible modern age, the film displays an alternative form of genuine humanity. And thus you are stepping into the world of future, where a series of unexpected stories awaits you. All these stories originate from the earth. From the very earth you live on.
The original reported plot descriptions for each of the three segments are below. Han's segment is described as a musical, which should clue you in to the fact that the entire enterprise might not be quite as much a duplication of American sci-fi/disaster tentpoles as the footage above suggests. But we don't know how much of that storyline survives in this version of the movie.
"Heaven's Creation," directed by Kim Jee-woon
A story about a robot who gains consciousness and the absurdity that follows.
"The New Generation," directed by Yim Pil-sung
A clever action film told from the point of view of a boy who has become a zombie, this segment explores how humans lose control of planet Earth, becoming mere food for a different species.
"The Christmas Gift," directed by Han Jae-rim (never shot)
A musical movie that re-interprets the beautiful love story "The Christmas Gift" by O Henry, this project confronts the basic instincts of a woman and her last chance to survive after witnessing the end of the world.