Watch A Deleted Scene And Bloopers From 'The Muppets' Blu-Ray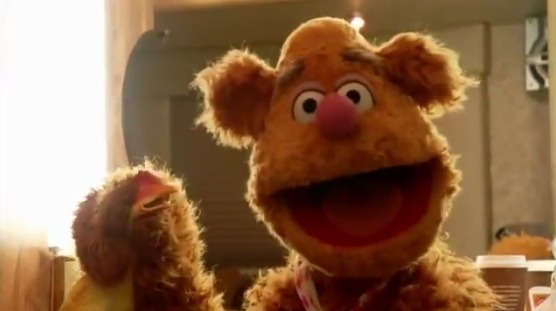 Aside from a brief appearance by Miss Piggy and Kermit and a win for composer Bret McKenzie, this weekend's Oscar ceremony was tragically light on the Muppets. But in just a few weeks, fans will be able to get their fill of the gang when the film hits DVD and Blu-ray.
Today, we have a preview of some of the bonus features from The Muppets, including a making-of featurette, a blooper reel, and a deleted scene — plus a clip of Kermit and Glee star Darren Criss performing "Rainbow Connection" for E!'s pre-Oscars show, just because. Watch them after the jump.
Here's a bit of the blooper reel:
And a deleted scene featuring Honeydew, Beaker, and Gonzo:
[via Bleeding Cool]
You'll have your choice of three different editions when The Muppets hits stores March 1 – the one-disc DVD, the two-disc Blu-ray, or the three-disc Blu-ray. Here's what'll be included on the most expansive (and most expensive) of those:
Blu-ray Feature Film + Bonus
DVD Feature Film + Bonus
Digital Copy Of Feature Film
Digital Full-Length Original Soundtrack
Scratching The Surface: A Hasty Examination Of The Making Of The Muppets — A Surprisingly Shallow But Profoundly Absurd Look At Muppets And Humans Working Together To Make Cinematic History
Deleted Scenes
A Little Screen Test On The Way To The Read-Through — The Muppets Bring The Wocka Wocka Wocka To A Routine Camera Test
Explaining Evil: The Full Tex Richman Song
Unreleased Theatrical Spoof Trailers — And More!
Audio Commentary — With Jason Segel, James Bobin, And Nicholas Stoller
Disney Intermission — Pause The Movie And See What Happens!
The Longest Blooper Reel Ever Made (In Muppet History**) **We Think — Includes Muppets! Stars! And One Ridiculously Long Chicken Joke! What More Do You Need?
And finally, here's that video of Criss and Kermit's "Rainbow Connection" duet. It won't be on the DVD/Blu-ray, but I'm posting here for the simple reason that it's cute and this seems like as good a time as any to share it with you.
[via E!]