Gallery: Rejected 'Star Wars' Merchandising Ideas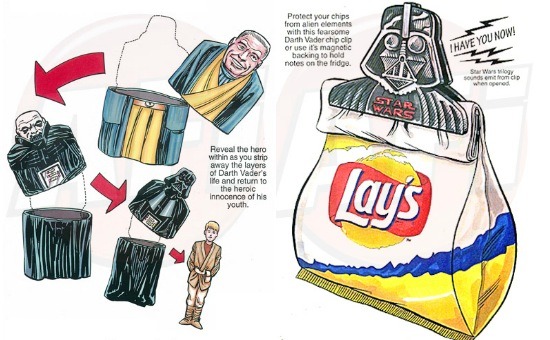 This is almost too much fun. Jason Geyer, a writer for Action Figure Insider, has posted a huge gallery of rejected Star Wars merchandise. How did he come upon these hidden gems? Simple, he helped to create them. In the late Nineties, he and a co-worker were two of the largest Star Wars fans working at a promotional merchandise company who had Pepsi as one of their clients. You'll probably remember that Pepsi and Star Wars had a massive marketing campaign beginning with Star Wars Episode I: The Phantom Menace and while only a few products actually got made, the list of ones that didn't is far more exciting and impressive. Can you say Floating Landspeeder Can Koozie?
After the jump, we've got ten of our favorites as well as a link to a page where you can see about six times the number shown here.
All of these below images, as well as the background of the whole story, come from Action Figure Insider. There the images are broken down into categories and more. It's a must click if you like some of these.
Oddly (or perhaps not so oddly), some of the concepts on the site actually did get made. Star Wars ice cube trays, Yoda backpacks, etc.
Geyer also explains that the images featured above are not even his favorites out of the concepts they came up with a long time ago, in a galaxy far, far away. Those were featured four years ago when he first revealed rejected Star Wars merchandise ideas like the Cloud City Lamp and Bantha Slippers. That post lead to a huge outpouring of press, excitement and now, finally, in true Star Wars fashion, a sequel.
Which of these are your favorite?
Note: The two images in the header are the Star Wars Stacking Figures and Darth Vader Magnetic Chip Clip With Sounds.