Over 800 Starz Titles To Leave Netflix Streaming This Week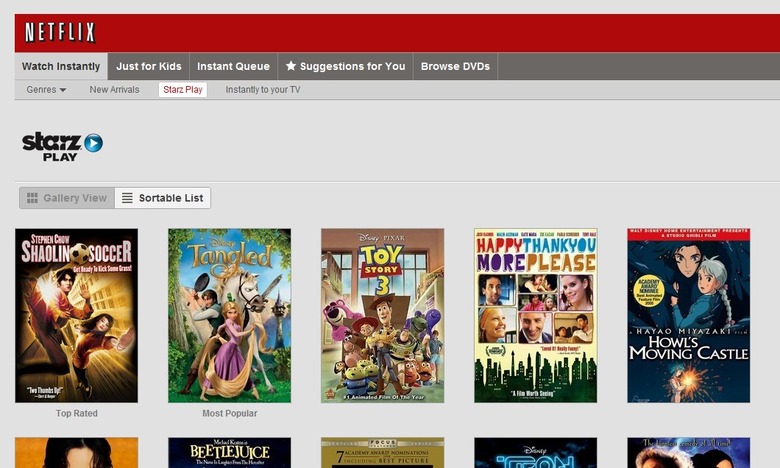 If you, like me, have a long Netflix streaming queue filled with movies you've been meaning to see but can never quite seem to find the time for, now may be a good time to finally get around to crossing some of those off your to-do list. You may recall that last fall, just as Netflix was dealing with the massive backlash to its price increases, Starz broke off negotiations to renew its deal with the home video service.
Well, February 29 marks the end of the companies' existing contract, meaning that this week will be your last chance to stream Toy Story 3, Scarface, or Party Down on Netflix. More details — including a link to a list of the expiring Starz titles — after the jump.
TVandMoviesNOW (via Engadget) has compiled a list of the titles that will be disappearing from Netflix this week, which you can sort by genre, release date, user rating, and whether or not you'll be able to find it on Amazon Prime once it leaves Netflix. Or, if sorting through TVandMoviesNOW's hundreds of entries is too much for you, head over to Gizmodo to check out their picks for films worth checking out in the next few days.
While the loss of the Starz Play titles represents a blow for Netflix, the streaming giant is now working to make its own deals with studios. Netflix's arrangement with DreamWorks Animation is scheduled to go into effect next year, while The Weinstein Co. announced a deal last week to bring its films, including foreign and documentary titles, to the streaming service within a year of their theatrical release. In addition, Netflix has begun offering original programming, starting with the Norwegian-produced Lilyhammer.
Discuss: Which titles will you be racing to check out before the Starz contract expires?