Jonah Hill And James Franco Cast In Credulity-Testing Journalist Memoir 'True Story'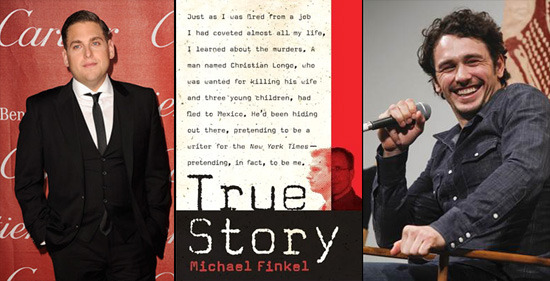 The strangest stories are often true. The film adaptation of Moneyball, for instance, is a slightly strange story, as it traces multiple attempts to make the film, culminating in the Bennett Miller picture starring Brad Pitt and Jonah Hill. The film could be called Hill's real coming-out as a dramatic actor, and he did a fine job. Now he's reuniting with Brad Pitt as the latter produces a film based on a far stranger tale.
True Story will be based on a memoir by Michael Finkel in which Finkel (Hill), a newly disgraced journalist, is given a chance to redeem himself by interviewing Christian Longo, a man arrested for murder, to be played by James Franco. The first big kicker is that when arrested, Longo was masquerading as... Michael Finkel.
Deadline has the casting details; the film was once at Paramount, but the studio gave it back to Pitt's company Plan B, which is now seeking new financing and distribution.
Rupert Goold, who directed a recent Great Performances version of Macbeth and is completing a version of Richard II with Patrick Stewart, James Purefoy, Clémence Poésy and Ben Whishaw, will direct.
So how weird is the story? Far more weird than anyone would probably be willing to believe at first pass. Here's the rundown of Finkel's memoir True Story: Murder, Memoir, Mea Culpa, upon which the film is based:
On February 2002, New York Times Magazine writer Michael Finkel received a startling piece of news: a young man named Christian Longo, wanted for killing his entire family, had been captured in Mexico, where he'd taken on a new identity: Michael Finkel of the New York Times.
The next day, on page A-3 of the Times, came another troubling item: a note from the editors explaining that Finkel, having falsified parts of an investigative article, had been fired. Nonetheless, the only journalist Longo would speak with was the real Michael Finkel, and so Finkel placed a call to Oregon's Lincoln County jail, intent on getting the true story. So began a bizarre and intense relationship—a reporting job that morphed into a shrewd game of cat-and-mouse. Part mystery, part memoir, part mea culpa, True Story weaves a spellbinding tale of murder, love, and deceit with a deeply personal inquiry into the slippery nature of truth.