Adam Sandler Shatters Razzie Records With Eleven Nominations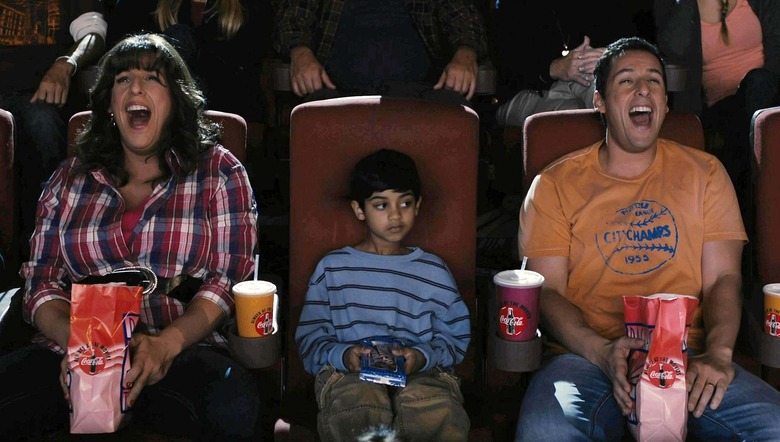 As the race for the year's most coveted trophies came to a close with this weekend's Oscars ceremony, another much less prestigious awards competition was just getting started. Nominations have been announced for the 32nd Razzie Awards, handed out to the "worst achievements in film" each year.
Leading the 2012 list is Adam Sandler, whose involvement in Jack and Jill, Bucky Larson, and Just Go With It earned him a record-breaking eleven Razzie nominations. That's more than twice as many as the previous record holder, Norbit star Eddie Murphy, received in 2007. Other standouts include Nicolas Cage, Ken Jeong, Sarah Palin, Transformers: Dark of the Moon, The Twilight Saga: Breaking Dawn Part I, and The Hangover Part II. Read the full list of nominees after the jump.
WORST PICTURE
BUCKY LARSON: BORN TO BE A STAR
JACK & JILL
NEW YEAR'S EVE
TRANSFORMERS: DARK OF THE MOON
TWILIGHT SAGA: BREAKING DAWN PART I
WORST ACTOR
Russell Brand – ARTHUR
Nicolas Cage – DRIVE ANGRY 3-D, SEASON OF THE WITCH and TRESPASS
Taylor Lautner – ABDUCTION and TWILIGHT S.B.D. PART I
Adam Sandler – JACK & JILL and JUST GO WITH IT
Nick Swardson – BUCKY LARSON: BORN TO BE A STAR
WORST ACTRESS
Martin Lawrence (As "Momma") – BIG MOMMAS: LIKE FATHER, LIKE SON
Sarah Palin (As "Herself") – SARAH PALIN: THE UNDEFEATED
Sarah Jessica Parker – I DON'T KNOW HOW SHE DOES IT and NEW YEAR'S EVE
Adam Sandler (As "Jill") – JACK & JILL
Kristen Stewart – TWILIGHT SAGA: BREAKING DAWN PART I
WORST SUPPORTING ACTOR
Patrick Dempsey – TRANSFORMERS: DARK OF THE MOON
James Franco – YOUR HIGHNESS
Ken Jeong – BIG MOMMA'S #3, HANGOVER PART 2, TRANSFORMERS #3 and ZOOKEEPER
Al Pacino (As "Al Pacino") – JACK & JILL
Nick Swardson – JACK & JILL and JUST GO WITH IT
WORST SUPPORTING ACTRESS
Katie Holmes – JACK & JILL
Brandon T. Jackson (As "Charmaine") – BIG MOMMAS: LIKE FATHER, LIKE SON
Nicole Kidman – JUST GO WITH IT
David Spade (As "Monica") – JACK & JILL
The Underwear Model (aka Rosie Huntington-Whiteley) – TRANSFORMERS: DARK OF THE MOON
WORST SCREEN ENSEMBLE
The Entire Cast of BUCKY LARSON: BORN TO BE A STAR
The Entire Cast of JACK & JILL
The Entire Cast of NEW YEAR'S EVE
The Entire Cast of TRANSFORMERS: DARK OF THE MOON
The Entire Cast of TWILIGHT SAGA: BREAKING DAWN PART I
WORST DIRECTOR
Michael Bay – TRANSFORMERS: DARK OF THE MOON
Tom Brady – BUCKY LARSON: BORN TO BE A STAR
Bill Condon – TWILIGHT SAGA: BREAKING DAWN PART I
Dennis Dugan – JACK & JILL and JUST GO WITH IT
Garry Marshall – NEW YEAR'S EVE
WORST PREQUEL, REMAKE, RIP-OFF OR SEQUEL
ARTHUR
BUCKY LARSON: BORN TO BE A STAR (Rip-Off of BOOGIE NIGHTS and A STAR IS BORN)
THE HANGOVER PART 2 (Both a Sequel AND a Remake!)
JACK & JILL (Remake/Rip-Off of Ed Woods' GLEN OR GLENDA)
TWILIGHT SAGA: BREAKING DAWN PART I
WORST SCREEN COUPLE
Nicolas Cage & Anyone Sharing the Screen with Him in Any of His Three 2011 Movies
Shia LeBeouf & The Underwear Model (aka Rosie Huntington-Whiteley) TRANNIES #3
Adam Sandler & EITHER Jennifer Aniston OR Brooklyn Decker / JUST GO WITH IT
Adam Sandler and EITHER Katie Holmes, Al Pacino OR Adam Sandler / JACK & JILL
Kristen Stewart & EITHER Taylor Lautner OR Robert Pattinson / TWILIGHT: BREAKING DAWN PART I
WORST SCREENPLAY
BUCKY LARSON: BORN TO BE A STAR – Written by Adam Sandler, Allen Covert and Nick Swardson
JACK & JILL – Screenplay by Steve Koren & Adam Sandler, Story by Ben Zook
NEW YEAR'S EVE – Written by Katherine Fugate
TRANSFORMERS: DARK OF THE MOON – Written by Ehren Kruger
TWILIGHT SAGA: BREAKING DAWN PART I – Screenplay by Melissa Rosenberg
[Sources: Razzies.com, Bleeding Cool]