2012 Academy Awards Live Blog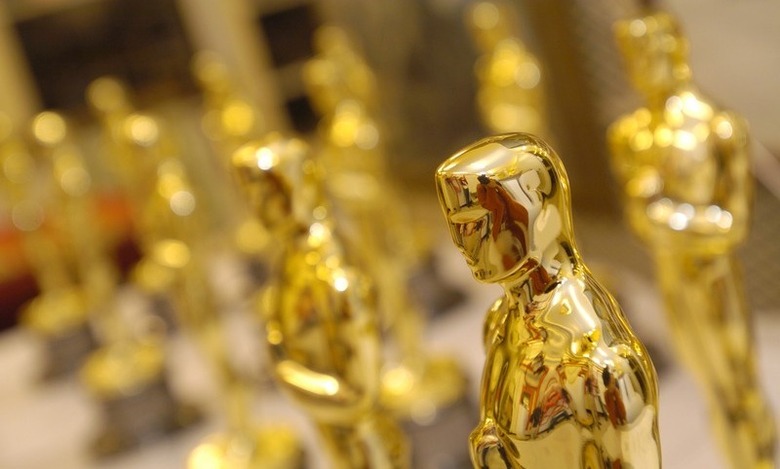 The 84th Annual Academy Awards are live from Hollywood Sunday and the questions are endless. Well, actually, the main question is can anything beat the runaway train known as The Artist? Michel Hazanavicius's black and white silent film has been the juggernaut of this awards season and is poised to take at least three of the major awards of the evening. Beyond that, how will Billy Crystal do? Will Sacha Baron Cohen do anything out of the ordinary ? (Edit: He did. Watch the video below.) And will we fall asleep due to boredom?
Keep up with all the events at this year's Oscars – including the winners – after the jump.
Here's the latest:
Best Picture
The Artist
The Descendants
Extremely Loud & Incredibly Close
The Help
Hugo
Midnight in Paris
Moneyball
The Tree of Life
War Horse
Thoughts: Congrats Harvey, you grabbed another one. But, to be honest, the fact that a black and white silent film won Best Picture against such a star-studded line up is pretty extraordinary.
Best Actress in a Leading Role
Glenn Close, Albert Nobbs
Viola Davis, The Help
Rooney Mara, The Girl with the Dragon Tattoo
Meryl Streep, The Iron Lady
Michelle Williams, My Week With Marilyn
Thoughts: Wait, what? Um. Are you serious? The biggest surprise is recent Oscar memory!!!
Best Actor in a Leading Role
Demian Bichir, A Better Life
George Clooney, The Descendants
Jean Dujardin, The Artist
Gary Oldman, Tinker Tailor Soldier Spy
Brad Pitt, Moneyball
Thoughts: Predictable. But great. At least he didn't run across the seats in the auditorium.
8:17 p.m. – Natalie Portman is presenting Best Actor. I'm loving how the presenter talked to each nominee almost on a personal level. Very cool.
8:07 p.m. – Elizabeth Taylor headlines the In Memoriam. Fade to black.
7:57 p.m. – I totally understand giving James Earl Jones an honorary Oscar, but Oprah Winfrey? She's a great, selfless humanitarian but is that Oscar-worthy? I'm slightly confused. Oh well. Three more majors to go.
Best Director
Michel Hazanavicius, The Artist
Alexdander Payne, The Descendants
Martin Scorsese, Hugo
Woody Allen, Midnight in Paris
Terrence Malick, The Tree of Life
Thoughts: No surprise here. Was kind of hoping for an upset but, oh well.
7:48 p.m. – About 40 minutes and only four awards left. Plus the death segment and lifetime achievement.
Short Film (Animated)
Dimanche/Sunday, Patrick Doyon
The Fantastic Flying Books of Mr. Morris Lessmore, William Joyce and Brandon Oldenburg
La Luna, Enrico Casarosa
A Morning Stroll, Grant Orchard and Sue Goffe
Wild Life, Amanda Forbis and Wendy Tilby
Thoughts: Yeah, that one looks pretty cool.
Documentary Short
The Barber of Birmingham: Foot Soldier of the Civil Rights Movement, Robin Fryday and Gail Dolgin
God is the Bigger Elvis, Rebecca Cammisa and Julie Anderson
Incident in New Baghdad, James Spione
Saving Face, Daniel Junge and Sharmeen Obaid-Chinoy
The Tsunami and the Cherry Blossom, Lucy Walker and Kira Carstensen
Thoughts: Martin Scorsese didn't get the fact that the Bridesmaids cast made a joke of the fact that his name is part of a drinking game.
Short Film (Live Action)
Pentecost, Peter McDonald and Eimear O'Kane
Raju, Max Zähle and Stefan Gieren
The Shore, Terry George and Oorlagh George
Time Freak, Andrew Bowler and Gigi Causey
Tuba Atlantic, Hallvar Witzø
Thoughts: It's that time in the show when we blow through the short awards. Here's where all your Oscar pools are won and lost.
Writing (Original Screenplay)
The Artist, Written by Michel Hazanavicius
Bridesmaids, Written by Annie Mumolo & Kristen Wiig
Margin Call, Written by J.C. Chandor
Midnight in Paris, Written by Woody Allen
A Separation, Written by Asghar Farhadi
Thoughts: Woody Allen. So cool, he doesn't need to show up to the Oscars. He's probably watching the NBA All-Star Game. Oh, speaking of which...
Writing (Adapted Screenplay)
The Descendants, Screenplay by Alexander Payne and Nat Faxon & Jim Rash
Hugo, Screenplay by John Logan
The Ides of March, Screenplay by George Clooney & Grant Heslov and Beau Willimon
Moneyball, Screenplay by Steven Zaillian and Aaron Sorkin.  Story by Stan Chervin
Tinker Tailor Soldier Spy, Screenplay by Bridget O'Connor & Peter Straughan
Thoughts: My favorite movie of the year so I'm very pleased with this one.
Music (Original Song)
"Man or Muppet" from The Muppets, Music and Lyric by Bret McKenzie
"Real in Rio" from Rio, Music by Sergio Mendes and Carlinhos Brown, Lyric by Siedah Garrett
Thoughts: YES YES YES YES YES YES YES YES! I love this song and this was literally the only category I cared about and I'm so happy. Here's my interview with now Oscar-winner Bret McKenzie from a few weeks ago.
7:16 p.m. – Haha – Will Ferrell and Zack Galifianakis slam cymbals in front of Brad Pitt and Angelina Jolie. These two are great. I can't wait for their movie.
Music (Original Score)
The Adventures of Tintin, John Williams
The Artist, Ludovic Bource
Hugo, Howard Shore
Tinker Tailor Soldier Spy, Alberto Iglesias
War Horse, John Williams
Thoughts: It's almost unfair that this wins. Totally worthy, but the score is as important – if not more so – than the screenplay in The Artist.
7:11 p.m. – Crystal is doing really well tonight. His last two bits made me laugh, I hate to admit it.
Best Actor In a Supporting Role
Kenneth Branagh, My Week With Marilyn
Jonah Hill, Moneyball
Nick Nolte, Warrior
Christopher Plummer, Beginners
Max von Sydow, Extremely Loud & Incredibly Close
Thoughts: Predictable? Yes. Deserved? Yes. Record-setting? Yes. At 82 Christopher Plummer is the oldest actor to ever win an Oscar.
Visual Effects
Harry Potter and the Deathly Hallows Part 2, Tim Burke, David Vickery, Greg Butler and John Richardson
Hugo, Rob Legato, Joss Williams, Ben Grossman and Alex Henning
Real Steel, Erik Nash, John Rosengrant, Dan Taylor and Swen Gillberg
Rise of the Planet of the Apes, Joe Letteri, Dan Lemmon, R. Christopher White and Daniel Barrett
Transformers: Dark of the Moon, Dan Glass, Brad Friedman, Douglas Trumbull and Michael Fink
Thoughts: Rise of the Planet of the Apes obviously deserved to win, but Hugo is on a technical tear.
6:54 p.m. – Emma Stone does the 2nd best presenting job so far with her hilarious perky bit. Jonah Hill's insert shot made me howl.
6:50 p.m. – We're about half way though and, I have to admit, this hasn't been as bad as anticipated. The little touches here and there have been tasteful and fun, they just played an awesome Brave commercial, Melissa McCarthy did a fun bit and there's even been a minor upset or two. We'll see how the rest of this goes.
Animated Feature Film
A Cat in Paris, Alain Gagnol and Jean-Loup Felicioli
Chico & Rita, Fernando Trueba and Javier Mariscal
Kung Fu Panda 2, Jennifer Yuh Nelson
Puss in Boots, Chris Miller
Rango, Gore Verbinski
Thoughts: I thought Chico & Rita might pull the upset but, nope, it's Rango. Congrats to Gore Verbinski for grabbing an Oscar.
Documentary Feature
Hell and Back Again
If a Tree Falls: A Story of the Earth Liberation Front
Paradise Lost 3: Purgatory
Pina
Undefeated
Thoughts: As a sports movie fan, I'm so mad that I have not seen the movie. Congrats to Undefeated. Though their mikes got cut off.
6:41 p.m. – Robert Downey Jr.'s presenting is another highlight. He had a camera crew on stage with him saying he was filming doc called The Presenter. Gwyneth Paltrow messed with him. Really funny.
6:38 p.m. – That was a fun, welcome change from the regular Oscar crap. But...wouldn't you just have rather heard Man or Muppet, one of the Oscar-nominees.
6:34 p.m. – The Muppets!!! Introducing a brand new segment from the Cirque du Soleil show Iris, which usually occupies the Kodak Theater when it's not Oscar season. By the way, this has more movie imagery then the entire show actually has.
Sound Mixing
The Girl with the Dragon Tattoo, David Parker, Michael Semanick, Ren Klyce and Bo Persson
Hugo, Tom Fleischman and John Midgley
Moneyball, Deb Adair, Ron Bochar, Dave Giammarco and Ed Novick
Transformers: Dark of the Moon, Greg P. Russell, Gary Summers, Jeffrey J. Haboush and Peter J. Devlin
War Horse, Gary Rydstrom, Andy Nelson, Tom Johnson and Stuart Wilson
Thoughts: And the Hugo's just keep on coming. I'm enjoying how pleased Scorsese is of all his people winning awards.
Sound Editing
Drive, Lon Bender and Victor Ray Ennis
The Girl with the Dragon Tattoo, Ren Klyce
Hugo, Philip Stockton and Eugene Gearty
Transformers: Dark of the Moon, Ethan Van der Ryn and Erik Aadahl
War Horse, Richard Hymns and Gary Rydstrom
Thoughts: Another technical award for Hugo.
Film Editing
The Artist, Anne-Sophie Bion and Michel Hazanavicius
The Descendants, Kevin Tent
The Girl with the Dragon Tattoo, Kirk Baxter and Angus Wall
Hugo, Thelma Schoonmaker
Moneyball, Christopher Tellefsen
Thoughts: Whoa – that just screwed up a few Oscar pools.
6:18 p.m. – Oh my god! Christopher Guest's players doing a skit on a focus group reaction for The Wizard of Oz. Hilarious!! Highlight of the show so far.
Best Actress in a Supporting Role
Bérénice Bejo, The Artist
Jessica Chastain, The Help
Melissa McCarthy, Bridesmaids
Janet McTeer, Albert Nobbs
Octavia Spencer, The Help
Thoughts: And so the predictable major categories begin. Spencer is great in The Help but Chastain is better. Chastain, however, will have many more chances. Congrats to Spencer though. You could tell by her tearful, rambling acceptance speech that it meant a lot to her.
Foreign Language Film
Belgium, "Bullhead", Michael R. Roskam, director
Canada, "Monsieur Lazhar", Philippe Falardeau, director
Iran, "A Separation", Asghar Farhadi, director
Israel, "Footnote", Joseph Cedar, director
Poland, "In Darkness", Agnieszka Holland, director
Thoughts: No surprise here. A Separation is widely regarded to be the best foreign film of the year. Oh, and it's the first film ever from Iran to win this award. That's cool.
6 p.m. – We can plainly see what producer Brian Grazer is going for here, trying to remind us why we love the movies. The next piece is a bunch of monster celebrities – Tom Cruise, Brad Pitt, Helen Mirren, Reese Witherspoon, etc – talking about their early memories at the movies. It's pretty solid.
Makeup
Albert Nobbs, Martial Corneville, Lynn Johnston and Matthew W. Mungle
Harry Potter and the Deathly Hallows Part 2, Nick Dudman, Amanda Knight and Lisa Tomblin
The Iron Lady, Mark Coulier and J. Roy Helland
Thoughts: This win was overshadowed by presenters Jennifer Lopez and Cameron Diaz opening the envelope with their butts towards the camera.
Costume Design
Anonymous, Lisy Christl
The Artist, Mark Bridges
Hugo, Sandy Powell
Jane Eyre, Michael O'Connor
W.E., Arianne Phillips
Thoughts: I thought Hugo was going to continue winning tech awards but, here's the first – of many – for The Artist.
5:51 p.m. – Some kind of montage about the magic of cinema. They should call this "Five Minutes of Movies Way Better Than Anything Released This Year."
Art Direction
The Artist: Laurence Bennett (Production Design); Robert Gould (Set Decoration)
Harry Potter and the Deathly Hallows Part 2: Stuart Craig (Production Design); Stephenie McMillan (Set Decoration)
Hugo: Dante Ferretti (Production Design); Francesca Lo Schiavo (Set Decoration)
War Horse: Rick Carter (Production Design); Lee Sandales (Set Decoration)
Thoughts: After Hugo won the previous award, this kind of made sense. And, frankly, it had the best Art Direction out of the bunch. Are we looking at a Hugo upset this evening?
Cinematography
The Artist, Guillaume Schiffman
The Girl With The Dragon Tattoo, Jeff Cronenweth
Hugo, Robert Richardson
The Tree of Life, Emmanuel Lubezki
War Horse, Janusz Kaminski
Thoughts: I thought Hugo looked great, but this has to be considered a bit of a surprise. Plus cinematography first was kind of weird. So far, so good.
5:41 p.m. – The updates will slow down considerably once the awards start but people were curious about Crystal, right? Well he's doing the patented musical medley. It's exactly like every other year, meaning, it's pretty good.
5:36 p.m. – That started off very strong and went downhill quickly. I don't think the image of Crystal as Tintin will ever leave my mind.
5:31 p.m. – Okay, that's more like it. Billy Crystal best picture montage. All pretty clever. Justin Bieber, Batman & Robin reference.
5:30 p.m. – Morgan Freeman is hosting? I'm confused. Oh, he's just introducing. That's different.
5:25 p.m. – I've spent the last hour trying to keep bootleg versions of the Sacha Baron Cohen/Ryan Seacrest clips below live but, alas, I think E! has finally removed every single version of it.(EDIT – The official one is now below). Also, that search was more exciting than the Red Carpet coverage. It's time to get the show on the road.
4:18 p.m. – I don't like to do a lot of red carpet coverage but Sacha Baron Cohen showed up as The Dictator, talked to Ryan Seacrest of E! and "mistakenly" dumped the ashes of his "good friend" Kim Jong-il all over him. Here's the video.
What are your thoughts?