'Star Trek' Sequel Is Being Shot Partially On IMAX [Updated]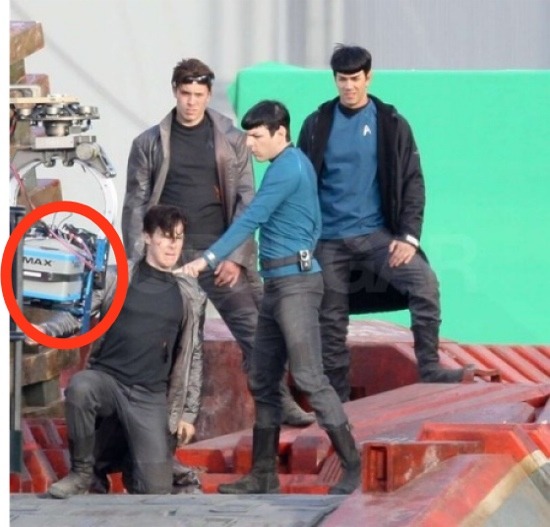 In December we learned that J.J. Abrams would be shooting the Star Trek sequel on film, and sending the footage to be post converted into 3D. At the time, Abrams said that he was talking about shooting in IMAX, but was noncommittal: "I would love to do it," he said. "IMAX is my favorite format; I'm a huge fan." Of course, Abrams produced Brad Bird's Mission: Impossible – Ghost Protocol which shot nearly 30 minutes of the film using IMAX cameras. Everyone who saw the film in IMAX praised the 65mm sequences.
Well now we have a confirmation that some part of the film is being shot using IMAX cameras. The confirmation comes via a set photo on PopSugar, so we don't know just how much Abrams plans to shoot or how they will be presented.
Update from Editor Russ Fischer: Today Paramount sent out a press release announcing the IMAX portions and release of the Star Trek sequel. There aren't many more details than Peter originally offered below, but we've archived the press release here for those who want to read it.
I can't imagine they are going to digitally post convert the IMAX-shot footage to 3D in a close-to-native resolution for the eventual IMAX presentation. If that is the case, than maybe the IMAX release will be released completely in 2D with IMAX-shot sequences as the added bonus. Again, I could be wrong. I'm not sure how much trouble it would be to work with the images if they were scanned at such an incredibly high resolution.
Also keep i mind that films like The Dark Knight or MI4 are easier to shoot with IMAX cameras as they use a lot of practical locations and very little green screen/computer generated elements. When Transformers: Revenge of The Fallen was released in IMAX, a lot of people complained that the IMAX shot sequences didn't look as good due to the Transformers and computer generated elements which were not rendered at a resolution which looked as vivid and crisp against the 65mm IMAX film.
Update: here's the June 13 press release:
DIRECTOR J.J. ABRAMS' STAR TREK SEQUEL TO LAUNCH IN IMAX® 3D AND FEATURE KEY SEQUENCES FILMED WITH IMAX® CAMERAS
The Paramount Pictures and Bad Robot Production Will Be Released Worldwide in IMAX® Theatres on May 17, 2013
Los Angeles, CA – Jun. 13, 2012 – IMAX Corporation (NYSE:IMAX; TSX:IMX) and Paramount Pictures Corporation, a unit of Viacom Inc., today announced that the sequel to J.J. Abrams' 2009 blockbuster Star Trek, will be released in the immersive IMAX® 3D format on May 17, 2013. The film represents the second feature in the ground-breaking franchise to be released in IMAX following Star Trek, which grossed more than $375 million at the worldwide box office.
Following on the heels of Paramount Pictures' and Bad Robot's 2011 hit, Mission: Impossible – Ghost Protocol, the filmmakers have once again taken full advantage of the IMAX® camera as well as the clarity and scope that The IMAX Experience® provides in order to transport fans into this 23rd century world. Several key sections of the film that feature big action set pieces have been captured with IMAX cameras, which has become an integral tool for visionary filmmakers to tell their amazing stories.
Exclusively in IMAX, sequences shot with the extremely high-resolution cameras will expand to fill the entire screen and further immerse the audience in the vast dimension and adventure of this highly-anticipated follow-up. Directed by J.J. Abrams and written by Damon Lindelof  (Prometheus), Roberto Orci and Alex Kurtzman (Transformers, Mission: Impossible III, Star Trek) the sequel follows another chapter of the USS Enterprise crew's exploration into the unknown. Returning to their posts on the Enterprise are Chris Pine, Zachary Quinto, Karl Urban, Zoe Saldana, Simon Pegg, John Cho, Anton Yelchin, and Bruce Greenwood.  They are joined by new cast members Peter Weller and Alice Eve.
"We were so thrilled with the creative results of shooting IMAX for Mission: Impossible that we jumped at the chance to use the format for Star Trek. All expectations were exceeded — the action and resolution is insane at this scale.  We cannot wait for audiences to see the crew of the Enterprise in a way they never have before," said J.J. Abrams.
"J.J. and the filmmaking team behind the Star Trek franchise are once again working to give audiences one of the best film going experiences available today," said Rob Moore, Vice Chairman of Paramount Pictures. "Following the great success of the first film in the newly revived franchise, the sequel to Star Trek will no doubt be among the top choices for moviegoers next summer."
"We are extremely proud to be continuing our successful partnership with Paramount Pictures, J.J., Bryan Burk, Bad Robot and the entire Star Trek team through this iconic franchise that has the perfect DNA for IMAX fans," said Greg Foster, Chairman and President, IMAX Filmed Entertainment.
The IMAX release of the Star Trek sequel will be digitally re-mastered into the image and sound quality of The IMAX Experience® with proprietary IMAX DMR® (Digital Re-mastering) technology. The crystal-clear images coupled with IMAX's customized theatre geometry and powerful digital audio create a unique environment that will make audiences feel as if they are in the movie.