'John Carter' Clip Shows Taylor Kitsch And A Martian With Willem Dafoe's Voice Battling A White Ape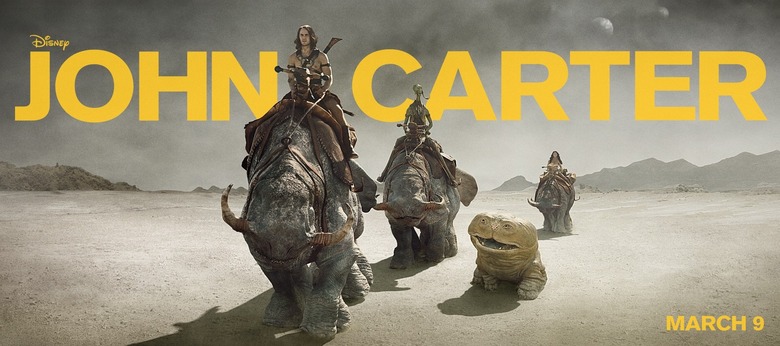 We've seen what seems like a fair amount of footage from John Carter already, between its various teasers, trailers and TV spots, but today we've got a somewhat longer two-and-a-half minute clip to show you — plus another two minutes from a new sizzle reel. The scene sees the titular hero (Taylor Kitsch) and Tars Tarkas (Willem Dafoe) battling white apes in a huge arena, while the reel that includes some new bits we haven't seen yet. Check it out after the jump.
[via Comic Book Movie]
That looks... all right, I guess? My problem with the clip and the accompanying sizzle reel is that it doesn't address John Carter's real issue: None of the marketing so far has done a good job of establishing exactly what this movie's about beyond the vaguest, most generic terms, or why we should care what happens to any of its characters. These four and a half minutes do nothing to change that, unfortunately.
Moreover, the video doesn't do justice to the one part of John Carter that does look strong — the visuals. Granted, that's not really the movie's fault, but whoever uploaded these scenes in low-res 360p instead of bright, beautiful HD really missed an opportunity to highlight one of the film's most appealing qualities.
Directed by Andrew Stanton based on a classic sci-fi novel by Edgar Rice Burroughs, John Carter opens March 9. As you can tell from the header image.
Synopsis:
From Academy Award(R)-winning filmmaker Andrew Stanton comes "John Carter"–a sweeping action-adventure set on the mysterious and exotic planet of Barsoom (Mars). "John Carter" is based on a classic novel by Edgar Rice Burroughs, whose highly imaginative adventures served as inspiration for many filmmakers, both past and present. The film tells the story of war-weary, former military captain John Carter (Taylor Kitsch), who is inexplicably transported to Mars where he becomes reluctantly embroiled in a conflict of epic proportions amongst the inhabitants of the planet, including Tars Tarkas (Willem Dafoe) and the captivating Princess Dejah Thoris (Lynn Collins). In a world on the brink of collapse, Carter rediscovers his humanity when he realizes that the survival of Barsoom and its people rests in his hands.