Voice Cast Of Dreamworks' 'Turbo' Includes Paul Giamatti, Maya Rudolph, And Bill Hader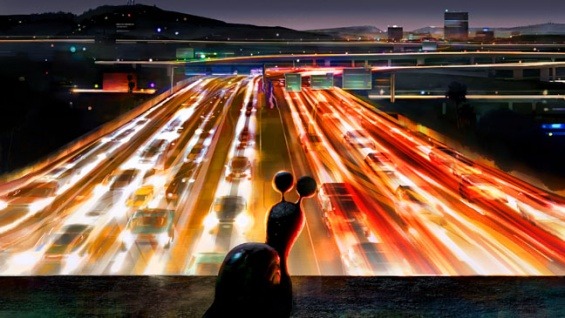 Dreamworks Animation announced Turbo a while ago; the animated film features Ryan Reynolds as the voice of a garden snail who dreams of being a racing champion.
Today the rest of the major voice cast has been announced, and it features some excellent names. Paul Giamatti, Luis Guzman, Maya Rudolph and more are part of the lineup. And Robert Siegel (The Wrestler, Big Fan) has been announced as a co-writer, which is also a welcome detail.
A press release lists the full cast: Ryan Reynolds, Paul Giamatti, Michael Pena, Luis Guzman, Bill Hader, Richard Jenkins, Ken Jeong, Michelle Rodriguez, Maya Rudolph, Ben Schwartz, Kurtwood Smith, Snoop Dogg and Samuel L. Jackson.
Dreamworks Animation story artist David Soren is directing; he also wrote the basic story. Robert Siegel and Darren Lemke (Shrek Forever After) are writing.
Here's the plot:
Turbo is a snail who dreams of being the greatest racer in the world, just like his hero, 5-time Indianapolis 500 champ, Guy Gagne. His obsession with speed and all things fast has made him an oddity and outsider in the slow and cautious snail community, and a constant embarrassment to his careful older brother, Chet. Turbo desperately wishes he could escape the slow-paced life he's living. As luck would have it, he gets that chance one fateful day after a freak accident when he suddenly finds himself vested with the power of incredible speed. Turbo embarks on an extraordinary journey to achieve the impossible: racing against the best that IndyCar has to offer. Turbo is the ultimate underdog who achieves the impossible by refusing to let his limitations get in the way of his dreams.
The header image above is a piece of concept art from Bleeding Cool. Lets hope the film looks a lot more like that than the truly terrible poster below, which arrived a couple days back: