Dictator Sacha Baron Cohen, As General Aladeen From 'The Dictator,' Responds To Oscar Ban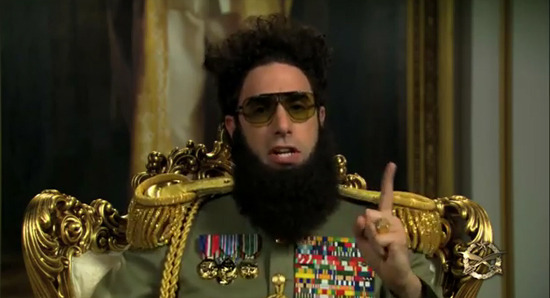 The best possible marketing push for Paramount's The Dictator has been a free bit of publicity from the Academy of Motion Picture Arts and Sciences. When Sacha Baron Cohen, in character as General Aladeen from the great Republic Of Wadiya, discussed showing up at the Oscars this weekend, AMPAS took swift action, and banned him.
Or, if you want to be really accurate about it, he wasn't quite banned. But "Sacha Baron Cohen Banned From Oscars!" is a much better headline than "AMPAS Suggests Sacha Baron Cohen Appearance in Character as Dictator Would Taint Oscar Proceedings, Hopes He'll Just Wear a Tux Like Everyone Else."
So, naturally, Cohen and Paramount are running with the idea that he has been prohibited from attending. Er, sorry, that General Aladeen has been prevented from attending. Now the General has responded to AMPAS, and you can watch his statement below.
There are some almost-gems here: the applause for taking away the General's freedoms, the jabs at Hilary Swank and Brett Ratner, and a few small but hilarious word choices. In general, this was a much better calling card for the movie than the actual trailer. So: good job Paramount, and good job Academy!
Directed by Larry Charles (Borat), The Dictator opens May 11, 2012. Anna Faris, B.J. Novak, Aasif Mandvi, and Jason Mantzouakas also appear.