'The Raid' Title Change Sets Up Trilogy; Sequel Will Be Released As 'The Raid: Retaliation'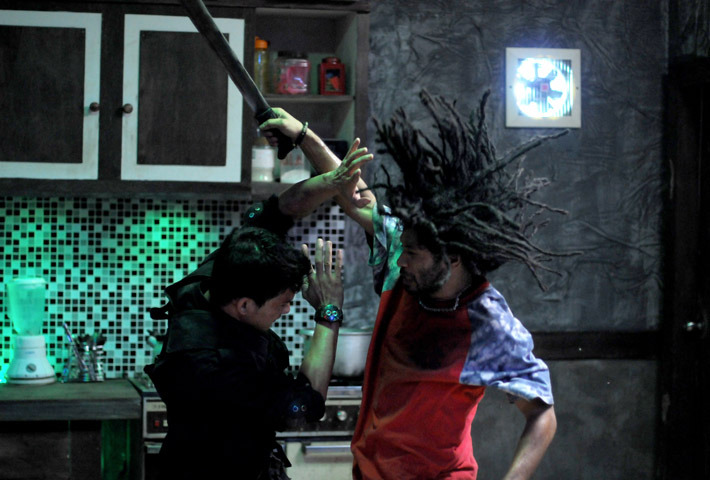 Earlier today we showed you the first Sony Pictures Classics trailer for Gareth Evans' award-winning action film The Raid. But there was a slight twist: in the US, the first film will go out under the title The Raid: Redemption.
We know that Evans plans to shoot a sequel to The Raid later this year, and that he has envisioned a trilogy of films set in the same world. Popular speculation earlier today was that the US title change is to help set up a title pattern for the trilogy. That is in fact the case.
While Evans has referred to the sequel as Berandal, the Indonesian word for thug, we've confirmed with reps for the film that the sequel will have the US title The Raid: Retaliation. Which, yes, is rather close to the title of another action sequel, G.I. Joe: Retaliation. I asked about potential conflicts there, and also about possible titles for the Screen Gems remake of The Raid, but have no info to offer on either front.
Reprising what we told you a few weeks back, at Sundance, Evans said,
While I was developing 'The Raid,' I was looking at ways to kind of link those two scripts together because we had done all this choreography on that first film, we were like ready to go we just needed the finance to pull the trigger on it. Because I didn't want to just abandon that project, I started to look at ways we could link the two together. So the one problem I had with that original script was that the lead role didn't have an interesting enough backstory.
As I was thinking about it, I thought 'Well if I make this a continuation of the story from 'The Raid,' it'll work much better, and it'll kind of add more ideas and add more different elements to it,' so it's actually gonna be the sequel to 'The Raid.' We're in a position now where we can finance that movie, which is great [laughs]. So yeah, it's a big relief now. For three years that's been the itch I couldn't scratch, so I'm kind of dying to kind of get stuck in and do that film next. That'll be part two. Part three [will be] further down the line. A lot further down the line.
Evans also said, "for The Raid sequel, I want to bring car chase elements to it as well. So we have like a cool fight scene where you go inside a car, fighting against four people as it's speeding along a one-way."