Sequel Bits: Rick Baker Teases 'Men In Black 4', Read A Rejected, R-Rated Treatment For 'Ghost Rider 2,' 'Terminator 3000' Still In Development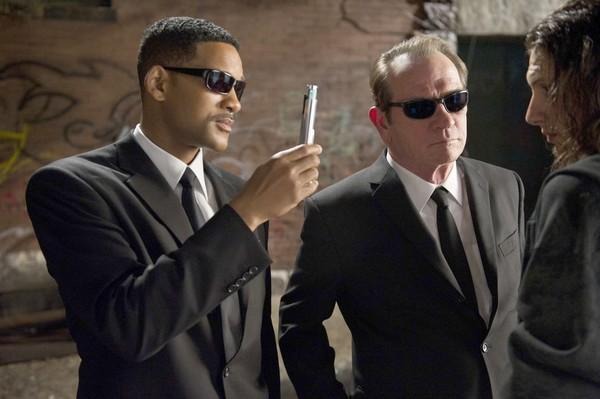 In today's Sequel Bits, you'll learn about a fourth film maybe in the making, a sequel that'll never be and an animated spin-off that might still be in the works. After the jump read about:
Special effects legend Rick Baker possibly revealing details of a fourth Men in Black film.
Todd Farmer and Patrick Lussier (Drive Angry) wrote a hard R-rated treatment for Ghost Rider 2 which was rejected by Marvel. And you can read it.
How one company is still hoping to make their feature-length animated Terminator film, Terminator 3000 despite being told otherwise.
Empire Magazine has a feature on the upcoming Men in Black 3 in which director Barry Sonnenfeld talks at length about the film's troubled production. They also speak to Oscar-winning effects man Rick Baker, back for his third MIB  film, and in his interview he says something which, depending on the interpretation, could be considered a MAJOR SPOILER going ahead. If you are worried, skip to the next bolded set of words below to avoid.
Here's the SPOILER quote from Baker, courtesy of Comic Book Movie:
At least we've got Josh Brolin now to carry on with Tommy's part...
We know that Men in Black III is a time travel film featuring J (Will Smith) going back in time to meet a younger version of Tommy Lee Jones' character K, played by Josh Brolin. So, knowing that, Baker's statement could mean a few things. The most obvious would be that K dies in the film. But if that's the case, how does his younger self survive? Well, maybe the younger self comes back to the future. Or, it's possible Men in Black 4 will be some sort of K centric prequel. Either way, it's a juicy tidbit of information.
END OF SPOILERS
Next up, this was in today's Superhero Bits but deserved a bit of play on its own.
Many comic book fans who saw Ghost Rider: Spirit of Vengeance probably were wondering why the film didn't go for a hard R-rating like the character begs. It seems that, while Sony and Marvel were figuring out what to do with the film, Todd Farmer and Patrick Lussier – the team behind Drive Angry – wrote a hard R-rated treatment they pitched to Marvel called Ghost Rider 2: Riders on the Storm. It was rejected.
Now, that treatment has made its way online and you can read it now by heading to Wendago. Thanks to Comic Book Movie.
Finally, Geek Tyrant has a pretty extensive write up from The Arnold Fans with the CEO of Hannover House, Eric Parkinson, whose company handled the initial video release of James Cameron's The Terminator. Parkinson believed that entitled them to some of the rights and had begun developing a 3D, CG-animated reboot called Terminator 3000.
Once the Terminator rights were re-purchased, however, Hannover was told to cease all production on the film. Now Parkinson has come out and said they're still developing the film in hopes Megan Ellison's Annapurna Productions sees the inherent benefit in it:
It's in the time being in the hands of Megan Ellison and her Annapurna Productions, whether or not they want to proceed. We reached out to them, communicated with her council and expressed our outline with the basic story structure with the proposed principal creative team and how it can be financed and how Annapurna Productions can make a lot of money with upfront licensing. But there are issues at play that I am not privy to. I think that most people are aware of how long this ticking bomb that this Terminator licensing exists before it goes back to James Cameron.
Parkingson also says Arnold Schwarzenegger is aware of the project and that the story, while not fully realized as a script yet, has the potential to revitalize the franchise in a way that'll be mutually beneficial both to his company and the current rights holders.
Whether or not that'll happen remains to be seen, but head to those above links for more information.