'Mad Men' Season 5 Teasers: Impeccable Style, Fantastic Writing, And Exceptional Acting Are Back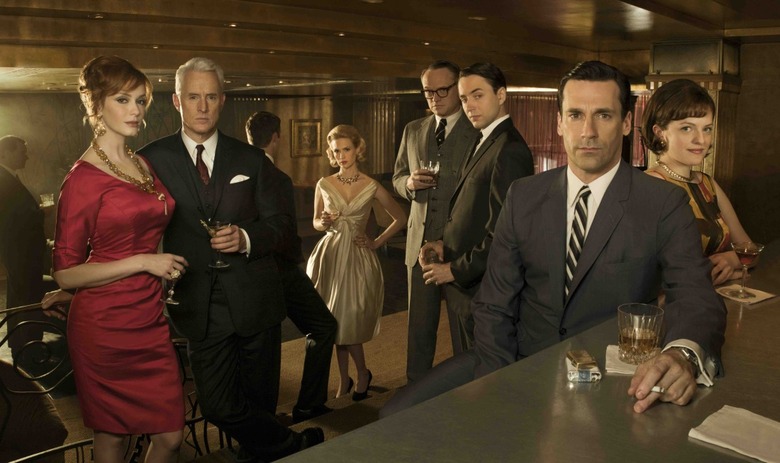 Thanks to those ugly contract negotiations between AMC and showrunner Matt Weiner, it's been over a year since the last episode of Mad Men aired. But patient fans will be rewarded soon, as the fifth season of the stylish AMC drama is set to premiere just over a month from today. To remind you of that fact, AMC has released a series of teasers featuring key players Peggy (Elisabeth Moss), Joan (Christina Hendricks), Roger (John Slattery), Betty (January Jones), Pete (Vincent Kartheiser), and of course, Don (Jon Hamm). Watch them after the jump.
Just be warned that if you decide to watch them all in a row, you will get sick of the rock 'n' roll tune before they're done. Not that that stopped me from especially enjoying the Pete one toward the end — Kartheiser's pitch-perfect reading of "Why can't I get everything good all at once?" will never get old.
Even Weiner couldn't stop a few small clues from slipping out, however. During a BAFTA event in London, one reporter asked Hamm why Don had never made a pass at Joan, and Hamm responded, "Who says he hasn't?" He then went on to tease a better look at the relationship between the series' two best-looking characters.
"The Don-Joan dynamic is something that we do explore, and don't take this the wrong way, but we do explore as the show goes on," Hamm said. "They have worked together for a long time, they know one another very well and I'll leave it at that." Feel free to speculate on the meaning of that in the comments.
Mad Men returns Sunday, March 25 on AMC. Keep an eye on this countdown clock to find out exactly how many days, hours, minutes, and seconds away that is.
Betty is Back:
Don is Back:
Joan is Back:
Peggy is Back:
Pete is Back:
Roger is Back:
The Cast is Back:
[Videos via Screen Rant, Zap2It, AMC]