New Service Called Tugg, Helps Audiences Demand And Book Their Own Movie Screenings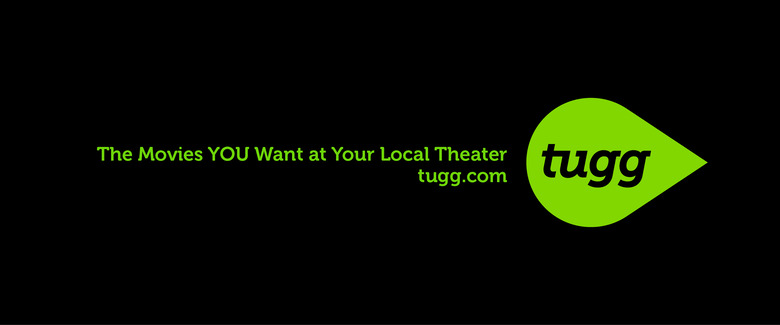 Do you ever get frustrated that certain movies don't make it to your local theater or that you can't see old favorites on the big screen? There is a new service that might let you change that. It's called Tugg and it's a social network that allows users to request, promote and eventually screen a film they want (current, classic, mainstream or independent movies) shown in a local theater.
The site is currently in beta but they already have deals in place with Alamo Drafthouse Cinema, AMC Theatres, Bow Tie Cinemas, Cinemark Theatres, Goodrich Quality Cinemas, Rave Cinemas and Regal Cinemas to make sure the screenings actually happen in quality venues. Read much more after the jump.
The official site of Tugg is Tugg.com and you can now sign up to test the service out.
But basically, here's what you'd do. Let's say, for example, you wanted to see A Separation on the big screen but it's not playing in your area. Assuming that's a film that's in the Tugg library (one that will certainly grow as time moves on) you go ahead and create the event. You choose the price, time and theater from a participating list. From there, you try and get people to commit either via social media, newspapers, whatever you can to get people to express interest in coming to a screening. Once a minimum number is reached (this will most certainly differ depending on theater, film, date and time) Tugg will set it all up with the theater and the screening is a go.
You can can also just search for Tugg events in your area and cut out the middle man. It's very much inspired by Demand It, Kickstarter and more.
Obviously, Tugg is more work than the average filmgoer is used to and will live or die based on the passion of the creator. But it's a great concept for those who love seeing movies theatrically and one can only hope it takes off.
To see more about Tugg, check out the official site as well as this How It Works page. Here's the official press release with quotes from several prominent theatrical executives:
Currently in it's pilot stage, Tugg, Inc. ("Tugg"), a collective action web-platform that enables individuals to choose the films that play in their local theaters, today announces it's working with exhibitors Alamo Drafthouse Cinema, AMC Theatres, Bow Tie Cinemas, Cinemark Theatres, Goodrich Quality Cinemas, Rave Cinemas and Regal Cinemas. The exhibitors will provide theatrical venues for individually curated events showcasing Tugg's growing library of hundreds of studio and independent films. Tugg's partnerships with distributors will be announced prior to the official launch at South by Southwest in March 2012.
Tugg co-founders Nicolas Gonda, CEO, and Pablo Gonzalez, COO, have created an innovative way for moviegoers to experience the films of their choice in a theatrical setting. Through Tugg, individuals are empowered to select a film, screening time, and nearby theater, and then spread the word to their immediate and online community. Once a necessary amount of people commit to attending, the event will be confirmed, and Tugg will reserve the theater, manage ticketing and ensure delivery of the film; allowing the audience to sit back and enjoy the show.
"Every film speaks to a different person, and the most exciting thing about Tugg is that it allows for audiences to find their films and films to find their audiences. We are eager to offer a platform that enables studios, filmmakers and exhibitors to have unprecedented interaction with communities and influencers," said co-founders Gonda and Gonzalez.
Through the exhibitors, Tugg provides audiences with access to a nationwide network of high-quality theatrical venues. Now an audience can watch a film of their choice, be it current or classic, mainstream or independent, in the multisensory environment only available in a movie theater. Tugg reaffirms the importance and value of the theatergoing experience, and allows exhibitors to court and retain both new audiences and active moviegoers by offering a wider variety of theatrical content.
Tugg's partnerships with distributors and independent filmmakers have helped build an extensive library of content for audiences to choose from. In addition, Tugg's demand-based infrastructure provides an exceptional platform for offering new releases to targeted markets across the country, and creates exciting opportunities for new films to reach theaters and audiences through a local, community-based approach.
"As the film exhibition industry continues to evolve, AMC Theatres remains committed to staying at the forefront of innovation, which is why we've been proud to work with Tugg from the very beginning to determine the feasibility of its platform," said Robert J. Lenihan, president of Programming at AMC Theatres. "As we continue to evaluate the program through trials at our theatres, we've experienced its potential firsthand through successful results by not only putting the choice directly into our guests' hands, but also through the power of grassroots, guest-advocate marketing."
"As the creators were first showing me Tugg, I had the same sensation I had when I first started using Facebook.  This was a brilliant, well-executed concept that could really change things for our business in a significant way," said Alamo Drafthouse CEO/Founder Tim League.
"Rave & Bow Tie Cinemas are excited about the innovative ideas Tugg has brought to our industry," said Spencer Klein, Rave Cinemas & Bow Tie Cinemas Senior Vice President Film & Alternative Content.
The Tugg team and its advisory board embody a strong collective of industry and media experience in the realms of production, development, marketing and distribution.  Gonda, a producer on The Tree of Life, got his inspiration for Tugg while working all over the world with filmmakers Terrence Malick and Steven Soderbergh.  Gonzalez, an experienced high-tech and marketing executive, leads Tugg's development and operations. In working towards this innovative new initiative, Tugg is privileged to have a board of advisors that includes writer/actor/director Ben Affleck, writer/director Richard Linklater and writer/director Terrence Malick.
Tugg is currently inviting early participants to use the platform during its pilot stage, and will be open to the public in the coming months.