Edgar Wright Set To Direct Johnny Depp In 'The Night Stalker'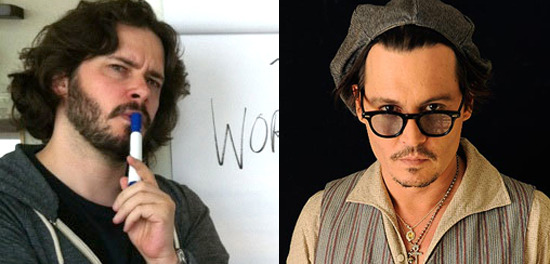 Well, this is unexpected. We've known that Shaun of the Dead and Scott Pilgrim vs. the World director Edgar Wright is at work on both a new screenplay with Shaun collaborator Simon Pegg and the Ant-Man project for Marvel Studios. (He's also got a couple other percolating scripts.) But in the meantime Wright is now set to make what will probably be his biggest movie to date.
Disney has hired Wright to direct Johnny Depp in a big-screen version of The Night Stalker, which was originally a TV movie, then a series, in which reporter Carl Kolchak (Darren McGavin) found himself embroiled in supernatural goings-on as he covered crime stories.
Even though this will probably happen before the next 'blood and ice cream' movie The World's End, Deadline makes The Night Stalker sound like a project that won't be happening immediately. That's because the film doesn't have a script at this point, or even a screenwriter. Wright would be a perfectly good choice for that job, too, but that may or may not happen.
Though it was announced last summer, a lot of work remains to be done, and Edgar Wright will work with Johnny Depp and Depp's Infinitum Nihil partner Christi Dembrowski to adapt and shape the material.
The site says the story will likely be PG-13 and "tailored to fit Disney's family film mandate." While Wright fans might initially bristle at that idea — he's not the most restrained guy when it comes to filmmaking — I think it will be interesting to see Wright work with these specific constraints.
So is this effectively a sort of trial run for Ant-Man? Wright has been at work on that with Attack the Block director Joe Cornish for some time, but given that Ant-Man isn't really a household name, it always seemed like a strange project for Marvel and Disney to invest in. The Night Stalker would establish him with Marvel owner and distributor Disney, and of course making a big Johnny Depp movie is rarely a bad thing for a director. (Though let's see how Depp's other supernatural TV-to-film endeavor Dark Shadows opens, and if Disney remains bullish on this one afterward.)